Worth Repeating: Working on Reading Comprehension with Students with Apraxia (or Any Non-Verbal Students) - featured October 12, 2011
< Back to Previous Page
Special Thanks to our friends at
Apraxia Kids
for the heads up on this excellent article.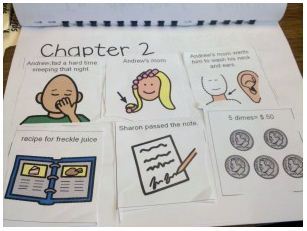 [Source: Technology in (Spl) Education]
I'm not a researcher. I'm not a clinician. I'm not doctor, a Ph.D., or even a developer of a reading program. I am a teacher. I'm a teacher and I can only relay information that has worked for me.
So, please take this blog post with a grain of salt. And then throw it over your shoulder. Because you'll need an extra helping of good luck when it comes to working on reading comprehension with students with apraxia or any other non-verbal student. But it can be done.
It can be done.
Here are some thoughts on how it can be done, followed by some of the things I have done that have worked…
USE VISUALS. First, determine what level your student may be at when using visuals. Does your child/student use a visual schedule? Is he working with objects, photos, picture icons, or symbols? Determine which make the most sense to your student. Use those types of visuals.
Read the Rest of this Article on the 'Technology in Spl Education' Blog
Tags: Childhood Apraxia of Speech Article Newsletter 14 October 2011