Visual Supports = Success - December 2009
< Back to Previous Page
Visual Supports = Success
By:
Michele Walker, MS, Applied Educational Psychology
Visual Supports create an environment that enables children and adults to achieve success. As a mother of a 9-year-old boy with dyslexia, I have been implementing and advocating the use of visual supports for the past seven years. I discovered how powerful visual supports are by trial and error. When I used them, my son thrived. When I didn't use them, my son struggled needlessly. Understanding the power of visual supports changed our lives.
Advertisers, doctors, psychologists, and researchers know that visual supports work for just about everyone. A picture travels to our brain at the rate of a high-speed internet connection. When we are emotionally dis-regulated, thoughts and actions do not come easily. Visual supports provide clarity and terrific impact during stressful times. Allow me to explain by telling you about a wonderful little boy that I had the opportunity to work with a few years ago.
Given my personal situation with my son and my professional background, parents and local schools often use me as a resource, especially around visual supports. One of those parents is the mother of a boy named Brian.
When I observed Brian, he presented with quite a challenging demeanor. He would slam the other children with his sled as they were sledding down the hill, in hopes of knocking them off. He would push and shove his way to the front of the line without waiting his turn. He was the loudest child in the group, yet covered his ears when the train went by or others spoke loudly. He struggled to fit in because he wanted to more than anything.
His mother had tried everything to modify his behavior including counseling, a cocktail of medications, punishing him and behavior (sticker) charts. When dealing with Brian, his father was quite the opposite. He believed that Brian should "just behave" and if he didn't, his father resorted to spanking and scolding him.
The schools he had attended did not have much success either. In pre-school, the parents of the other children petitioned to have him removed from their child's class and because of this and his behavior, he spent most of his time in the corner of the classroom or at home.
In kindergarten, his poor behavior continued and frustrated his teachers. Once again, the other parents asked to have him removed from the classroom. He spent an entire month sitting in the main office of the school on display for all to see. He had quite a reputation at that point.
This situation was heart wrenching and kept me awake at night. I wondered how he could be expected to know what the adults wanted him to do or what the other children expected from him if it didn't come naturally to him. I wondered if perhaps the adults that were there to guide and teach him had unintentionally become part of the problem.
I suggested using visual supports to guide Brian in regulating his emotions and behavior. I knew that visual supports would take the pressure off Brian, his parents and his teachers.
Initially, I taught Brian's parents how to use the visual supports at home. In order to help Brian identify how he was feeling, I provided pictures representing each possible emotion. I also gave them a diagram with images illustrating why he might be upset.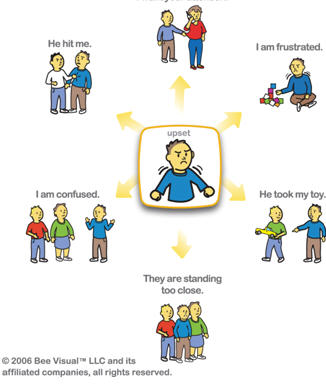 Brian's visual support board gave him the option of taking a break from the situation or person that was bothering him or getting help. Brian learned that if he chose to get help from an adult, the next step would be to figure out what to do next. He did that by selecting an option from the pictures on the visual support board.
I left the visual supports with Brian and his parents and waited to hear from them.
The next morning, my phone rang and I heard Brian's mother who was obviously choked up saying, "It worked! Thank you! Last night, Brian's Dad was so frustrated with him that he began yelling. Then he grabbed the board and pointed to the pictures and asked Brian, 'What do you want? What do you need?'"
Brian made a selection at the bottom of the board revealing the picture, "I want a hug". Brian's Mom told me that when this happened his father softened and pulled Brian in for a hug. The evening took on a much different tone. Everyone's needs were met.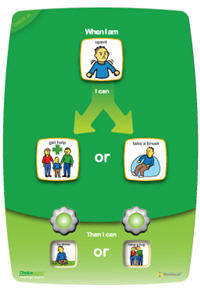 Brian now uses his visual support board at both home and school. He knows that when he gets out of control or upset he can make good choices about his actions. The adults working with him are relieved, too. They have an action plan that works and the pressure is off. Brian's success is extremely gratifying. If you have not already tried using visual supports, I am certain you will be amazed when you do!
This Month's Featured Vendor:
BeeVisual
Michele Walker founded Bee Visual with the help of her husband Jeff and is the creator of the Choiceworks™ Visual Support System. She received her bachelor's degree in sociology from the University of Massachusetts at Amherst and her Master's Degree in Applied Educational Psychology from Northeastern University in Boston. She has worked as a children's mental health counselor at the Columbia Metrowest Medical Center and as a guidance counselor at the Blake Middle School in Medfield, MA.
Michele Walker, MS is the creator of the award winning Choiceworks Visual Support System. She is a consultant, speaker, and author. Most importantly, Michele is a mom to two wonderful boys, one of whom has Dyslexia. To learn more please visit
http://www.beevisual.com
Please support our contributing authors and visit
BeeVisual
.
Tags: December 2009 Newsletter OT Visual Supports Aspergers Syndrome SLP Autism Article