Therapy Resource of the Week: Shared Speech Therapy Activities on Quia - featured Novmeber 17, 2011
< Back to Previous Page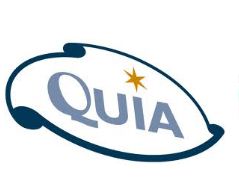 This week's Therapy Resource of the Week is website known to few outside of the teaching field. Quia - pronounced
"key-ah"
is short for
Quintessential Instructional Archive
. Quia provides a wide variety of tools, including:
Templates for creating 16 types of online activities using your own content.
A complete online testing system with automatic grading, immediate feedback, and detailed reporting.
Online surveys for gathering student and teacher feedback.
A class Web page creator to share Quia activities and class announcements with students and parents.
Access to millions of shared activities and quizzes in over 300 categories.

We think you might just be interested in the (at this writing) 493 activities in the Speech and Language Therapy category shared by other SLPs!
Visit the Quia Speech Therapy Activities Page
Tags: Tip or Resource of Week SLP Newsletter 18 November 2011