The Sensory Driven Child - What Makes Them Tick and What Makes Them Ticked - featured March 11, 2011
< Back to Previous Page
The Sensory Driven Child - What Makes Them Tick and What Makes Them Ticked
By:
Susan N. Schriber Orloff, OTR/L
Five-year old Johnny is a mess. His teachers float between anger and frustration about him. He has few friends and those he makes he cannot keep. His parents walk on eggshells around him never knowing how he will react in a given situation. And even worse, he talks about not liking himself and how he hates "everyone".
In school he can be great, but then the fire alarm can go off and he is a "lost cause" for the rest of the day. Unable to "reset" himself, he stays "on guard" and anxious. He does not like to stand in line to go to lunch because he says that the other kids "hit him". On the playground he is a "wild-man" running with abandon bumping into people and things and barely noticing. His gait is awkward and he cannot reasonably participate in team sports. He habituates wearing the same clothes so Mom has several of the same outfits ready for him each day. He does not eat in school because the smells in the lunchroom "make him sick".
What is going on with him? Is this willful, or is something else going on with him? Taking a sensory processing view of his behaviors, several issues come clear. Breaking his behaviors into auditory, visual, tactile, movement, propriocetion, olfactory/taste, and emotional categories it is easy to see that his skewed sensory processing is impacting all of the above areas.
How do you treat a kid like Johnny? What comes first? Perhaps it is best if his issues are charted out so that a more careful examination of these concerns can be made.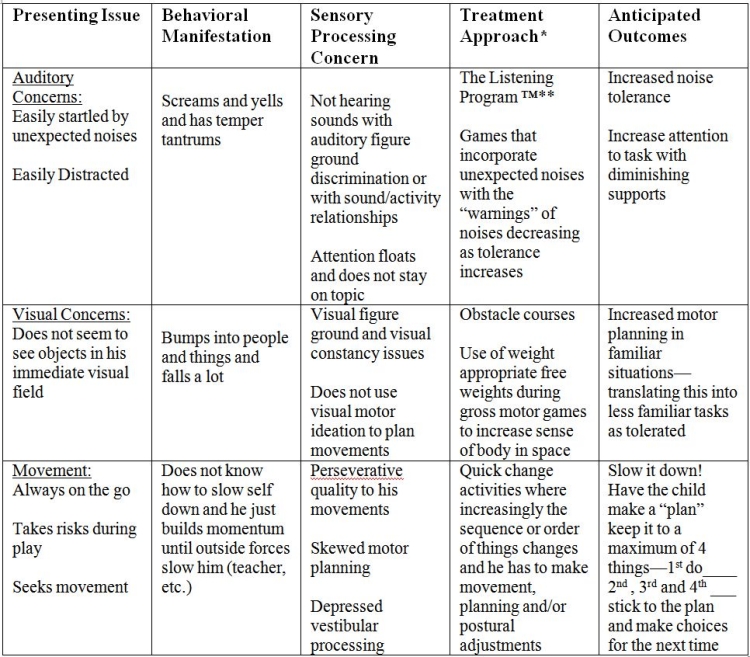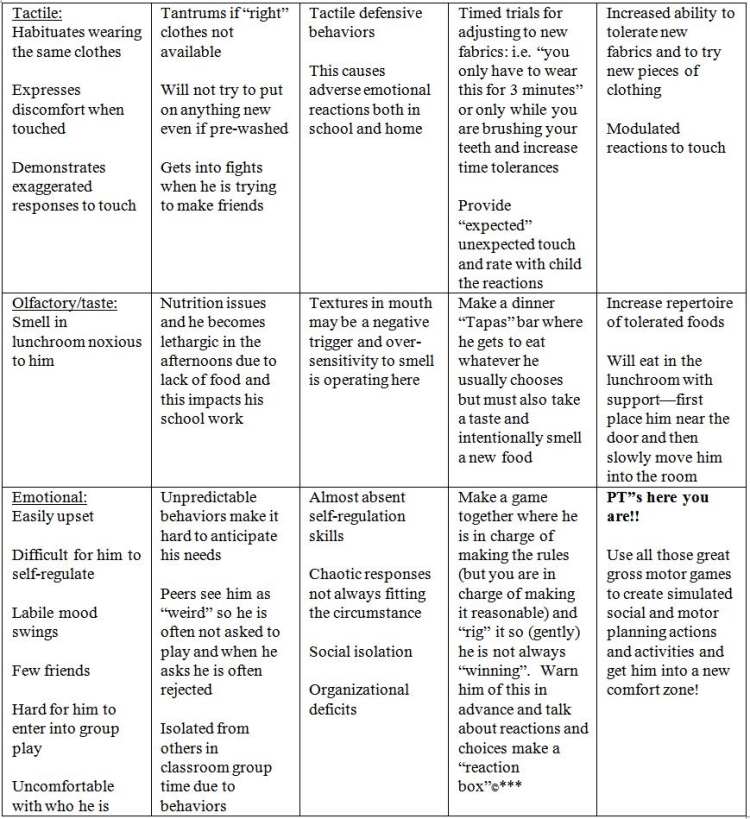 *Treatment Approaches are suggested ones there are many ways to address these issues
**The Listening Program ™--available commercially
***The "reaction box"—exclusive to Children's Special Services, LLC Get a heavy cardboard man's shoe box; decorate it with paint, contact paper, etc. put in it on separate slips of paper good behavior choices ONLY. When he is upset let him pound on the box for a while and then he picks a choice out of the box and you help him achieve that "choice".
So what do you treat first? Everything! That is what therapy is, changing the context in which one lives so that one can live with greater ease. For the child with sensory processing disorder, this is particularly crucial. The quicker these issues are resolved the easier the child will have interacting both at home and school.
This Week's Featured Author:
Susan N. Schriber Orloff, OTR/L
Special Thanks to Susan Schriber Orloff for providing an article for this issue's Therapy Corner.
Susan N. Schriber Orloff, OTR/L, is the author of the book Learning RE-Enabled, a guide for parents, teachers, and therapists (and a National Education Association featured book), and the Handwriting on the Wall Program. Children's Special Services, LLC is the exclusive provider of P.O.P.tm Personal Options and Preferences, tm social skills programs. She was the 2006 Georgia OT of the Year and the CEO/executive director of Children's Special Services, LLC, which provides occupational therapy services for children with developmental and learning delays in Atlanta.
Please support our contributing authors and visit Children's Special Services, LLC on the web at:
http://www.childrens-services.com
. Her WIN™ program is available through YourTherapySource.com.
Tags: Article Sensory Processing Disorder OT Newsletter 11 March 2011