The Communication Matrix: Free Online Assessment Instrument - featured September 13, 2011
< Back to Previous Page
Thanks to our Twitter friend
@hheaman
for the heads-up about this tool!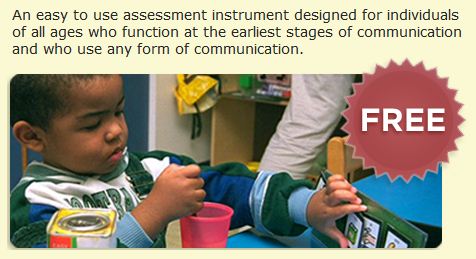 The Communication Matrix is an assessment tool designed to pinpoint exactly how an individual is communicating and to provide a framework for determining logical communication goals.
It was first published in 1990 and was revised in 1996 and 2004 by Dr. Charity Rowland of Oregon Health & Science University. It was designed primarily for speech-language pathologists and educators to use to document the expressive communication skills of children who have severe or multiple disabilities, including children with sensory, motor and cognitive impairments. The original version for professionals is still available in print for purchase in both English and Spanish at
www.designtolearn.com
. It uses a concise format that is designed for rapid administration by persons familiar with the assessment. The online version is free with registration.
Check out the Communication Matrix
Tags: Tip or Resource of Week SLP Newsletter 16 September 2011