Software Product Review: Imagine Speech - featured January 11, 2011
< Back to Previous Page
Software Product Review: Imagine Speech
Reviewer:
Sue Currie and CARE (Colaborative Autism Resources and Education)
Order this Software from the Imagine Speech Website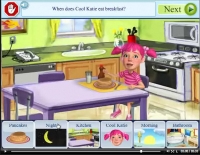 Fun, easy, to use - and effective in aiding communication? "Imagine that"!
Imagine Speech has developed an Interactive Speech-Language Software three-disc series that targets children with speech-language disorders, including children with Autism Spectrum Disorder. The discs are easy and quick to load onto your computer and work equally well on Mac or PCs. Although they can be utilized independently, I found that the "Wh" Question Quest Program was really the "first" in this set or series of 3 discs from Imagine Speech.
All three disks consistently used four characters, starting with the "Helper", Imagine, a furry dog that introduces and supports each program, and then the three unique characters (Brainy Ben, Cool Katie, and Noble Nick) are utilized throughout the programs.
From a user (aka child or student's) perspective, the characters are fun (sometimes even silly, with one setting where the cheese snaps up and sticks to the character's nose) and engaging, through short and interactive animations and questions and answers. They also require little or limited computer skills other than use of a mouse. There is a lot of verbal and visual positive reinforcement throughout and there are various levels so that any "user" can be successful. This approach is created with the beginner level providing two options, progressing to intermediate with 4 options, and finally, to expert at 6 options for the 2 "Question Quest" discs. Additionally, generalization is increased by the responses and options varying for each use (and reduces "game burnout").
From an educator, SLP, parent, or other caregiver's perspective, the games cleverly utilize a number of evidence-based strategies such as visual learning, a lot of verbal and written positive reinforcement throughout, mitigating "failure" by visual cues and limiting "wrong" options.
Two other positive elements of these programs are its use of constructive learning (especially in the Preposition Playhouse where you are placing items and objections based on instructions throughout), as well as the use of educational scaffolding (using the 3 characters and even similar settings throughout the 3 programs and also increasing the number of options at different levels). It is for these elements that I would recommend purchasing the 3 discs "together" to reap maximize these additional educational benefits.
Although these games are designed for a wide range of ages, I would suggest that it is for pre-school to middle school children because of the characters, the graphics, and animation utilized throughout. I would also recommend that these games could be used in a range of environments such as homes, school settings or even as an adjunct or complement to an SLP's sessions, when appropriate. I also think that they may be beneficial to children with English as a Second Language in a range of other community settings. Finally, these games could be used independently, with a caregiver or provider, and/or even in a group setting for a diversity of learning opportunities. The relatively low cost, variety of levels and ease of use make this "set of 3" a nice complement to a provider, parent, or other caregiver's communication toolbox.
Featured Product Reviewer:
Sue Currie and CARE (Colaborative Autism Resources and Education)
Collaborative Autism Resources and Education (CARE) has been providing a range of services for children, youth, adults, and families for years. Although our primary focus has been persons with autism, our team has a range of experiences and provides training, technical support, and conducts program evaluations with persons with developmental disabilities and needs.
Please support our contributing authors and reviewers. Visit the CARE website HERE
Tags: Newsletter Language Autism 14 January 2011 Down Syndrome Speech Delay Language