Sensory Lab in the News - featured September 27, 2011
< Back to Previous Page
[Source: mlive.com/Grand Rapids Press]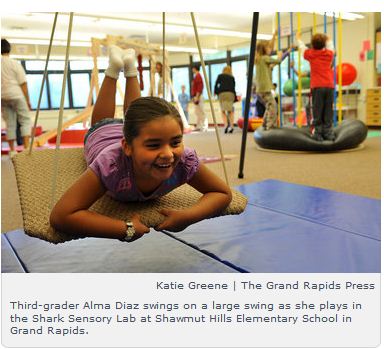 Tiffany Warren sunk deep into a pit of colorful plastic balls like a warm bubble bath. Across the room, a trio of boys jumped on an inner-tube. Another fourth-grader swayed on a platform swing.
To most, it looked like these Shawmut Hills Elementary students were just having fun in a cool indoor playground. But they weren't playing with toys — there were tools to enhance their ability to learn.
The new Sensory Lab, courtesy of a $40,000 Meijer Good School grant, contains specific types of equipment and material aimed at sensory development. Typically, such labs or rooms are associated with special needs students, but educators and occupational therapists say they benefit all students.
Read the Rest of this Article on MLive.com
Tags: News of the Week Sensory Processing Disorder Newsletter 30 September 2011