Scientists and Autism, When Geeks Meet - featured November 8, 2011
< Back to Previous Page
Editor's Note: This article appeared in a special Issue of the Journal Nature, dedicated to Autism.
Check out the entire issue HERE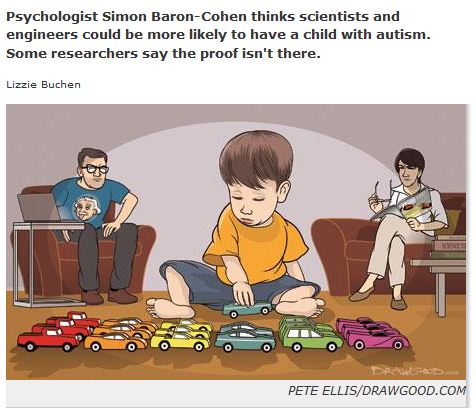 In the opening scene of The Social Network, Jesse Eisenberg portrays a cold Mark Zuckerberg getting dumped by his girlfriend, who is exasperated by the future Facebook founder's socially oblivious and obsessive personality. Eisenberg's Zuckerberg is the stereotypical Silicon Valley geek — brilliant with technology, pathologically bereft of social graces. Or, in the parlance of the Valley: 'on the spectrum'.
Few scientists think that the leaders of the tech world actually have an autism spectrum disorder (ASD), which can range from the profound social, language and behavioural problems that are characteristic of autistic disorder, to the milder Asperger's syndrome. But according to an idea that is creeping into the popular psyche, they and many others in professions such as science and engineering may display some of the characteristics of autism, and have an increased risk of having children with the full-blown disorder.
Read the Rest of this Article online at Nature.com
Read the Rest of this Special Issue from The Journal Nature