Review: Songames (TM) for Sensory Integration - featured May 17, 2011
< Back to Previous Page
Review: Songames ™ for Sensory Integration
By:
by Aubrey Lande, MS, OTR, Bob Wiz & Friends
Reviewed By:
Kimberly Sena Moore, MM, MT-BC
Published/Produced By:
Future Horizons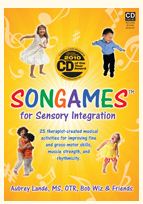 Songames ™ for Sensory Integration is a wonderful resource for any therapist, teacher, or parent who's looking for a structured, musically-facilitated, 20-minute experience for their child or client.
The product comes with 2 CDs and a 66-page instructional booklet. I was highly impressed with the booklet, which includes:
a brief history of how Songames came to be;
a description of the Circle Form concept and the 5 different Circle Form experiences included in the product;
ideas for how to use Songames individually, at home, in a classroom, and in a group;
variation ideas for each song and experience;
a glossary of terms; and
a lengthy References section.

The authors include other nice touches in the booklet, such as the length of each song and the song lyrics.
The one thing you absolutely need that this product does not—and cannot—provide? A facilitator. This is not a "turn the CD on and leave" type of product. You need a facilitator there to provide verbal cues, to "listen" to the child, and to adapt the experience as needed.
(In truth, the best type of learning and growth happens when there's an interactive component. That's why, as a music therapist, providing music therapy live is much preferred over using recorded music.)
Additionally—and as the authors mention in the introduction—the facilitator really should prepare him/herself by listening through the songs they plan to use. You will need to be familiar with the music and what happens next so you can best facilitate the experience.
Now that I've mentioned all the pros, I do have a con. As a board-certified music therapist, I found that the music was often too complicated. The instrumental-only songs were fine (and I especially liked the ones that used a strong rhythmic pulse, such as "Forest Stump." That strong steady beat helps organize our motor system for movement.).
But in the songs with lyrics, I often found the melodies hard to follow. They didn't have the musical simplicity, repetition, and structure that I feel works best with people who struggle with processing sensory information. Additionally, with some songs, there were too many lyrics. All the music was pretty and very professionally done—I just wonder whether it's as musically-effective as it could be for this population.
The final test? I took my children (neuro-typicals who are 4.5 and 2.5 years old respectively) through Bob's Circle Form. And guess what? They loved it! I was providing verbal cues throughout and adapting what they were doing based on their responses, but they were engaged with me and participating the whole time.
Which for me, despite my reservations about the music, helps me give Songames ™ for Sensory Integration a thumbs up.
This Month's Featured Book Reviewer:
Kimberly Sena Moore
Special Thanks to Kimberly Sena Moore for reviewing this CD for PediaStaff.
Kimberly Sena Moore is a board-certified music therapist, a mommy, and a soon-to-be-PhD candidate. She writes about music therapy and starting your own therapy practice through her blog
Music Therapy Maven
. Download her free
Productivity Primer
to
learn 7 tips for getting more done in less time
and
follow her on Twitter at @KimberlySMoore
.
Tags: Sensory Processing Disorder Book Newsletter 20 May 2011