Review of Morgans Wonderland - featured June 25, 2010
< Back to Previous Page
Review of Morgan's Wonderland
By:
Barbara Boucher, PT, PhD, OT
Imagine the opportunity to design a therapy clinic where space is not an issue and is partially outdoors. Imagine the opportunity to work with engineers and architects who would not question the need to accommodate wheelchairs and children who run away with abandon. Imagine the opportunity to use technology never before applied to persons with cognitive and sensory impairments.
Imagine a place where every consideration for a child's special needs is considered.
Such a place exists: Morgan's Wonderland.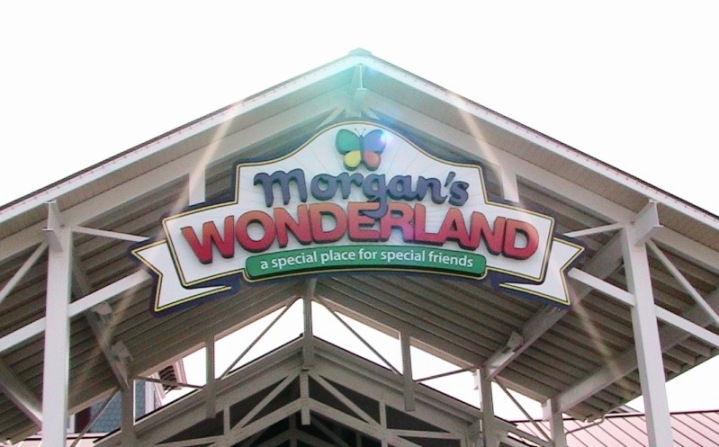 I know the therapists who consulted with the builders of Morgan's Wonderland. They have represented our professions well.
The park, in San Antonio, Texas opened to great fanfare on April 10 with local celebrities
Eva Longoria Parker
and David Robinson.
The glitz of the celebrities and the media is nothing compared to the happy expressions of the children and their families who visit Morgan's Wonderland every day. The accepting and welcoming park acts on people like baclophen on overactive motor neurons. The ability to relax underlies their ability to enjoy the three rides, the multiple interactive toys, the accessible playgrounds and the safety features.
If you have ever accompanied a child with special needs to a public playground or theme park – recall that experience but mentally peel-away every barrier to play in the park. Like me, I expect your own enjoyment is enhanced with that mental image. I really enjoyed being at Morgan's Wonderland. I felt I was among my peeps. I sensed the families felt that, too.
In part the atmosphere at Morgan's Wonderland is accented by the most welcoming and friendly volunteers and staff I've met. Their patience is evident while assisting children onto the beautiful carousel that is countersinked into the ground for level loading. In this park the lid is off the social-pressure-pot to do things in a hurry. The carousel also carries adapted bench-sleds for those who do not wish to ride atop an animal form. The sleds are uniquely made to rise-and-fall with the same speed as the other bobbing animals.
Seems like all children want to mimic the adult behavior of driving a car. The Off-Road ride at Morgan's Wonderland not only allows children to steer a vehicle within a safe range, anyone using a wheelchair can be a passenger in these open air and ruggedly-themed 'cars'.
The train ride is as important to the local culture as good orthotics are to developing feet. In San Antonio the large, historic public park has had a train ride for over 50 years – fun but meant only for those who can hop on and off at will. At Morgan's Wonderland the train tracks are below the loading dock for easy access to the seats and two cars include drop-down ramps for wheelchairs to glide onto for a comfortable ride that circles the park.
One area of the park consists of large uniquely designed musical instruments. A water-play area offers multiple opportunities to splash or redirect water flow using problem-solving and hand skills. Just like many theme parks there are water guns that shoot streams to move rotating objects and electronically-guided motorized (pirate) boats. Unlike most parks, Morgan's Wonderland has a fishing hole where anglers of all abilities can hook a big one. Equipment, bait and assistance are all provided.
Special, really very special consideration was given to children who need/require/enjoy quiet, non-tactile and interesting sensory experience. Using a technology I have never seen before, children can see a visual response to their own movement in the form of butterflies. The Sensory Village building is quieter with low light and several experiential rooms.
(Frankly I'm more of a motor enthusiast myself.)
The playgrounds! (Restraining myself from saying something slang and youthful but accurate like to.die.for.) You know how we therapists do activity and motor analyses to configure the perfect play exercise that brings a child to the next level of function? Well, after all that mental work then we have to find just the right equipment to excite the child (and save our backs). At Morgan's Wonderland the playgrounds are the stuff of this old therapist's dreams. The playgrounds hold multiple levels of many common playground toys, padded surfaces and are beautifully canopied (protection from the hot Texas sunlight). Also there are uncommon playground toys like roller slides and balance beams with 'parallel bars'.
Inspiring thematic touches abound at Morgan's Wonderland, too. A crew of cartoon super-heroes with special needs appear throughout the park. A butterfly theme is artistically infused into the park even to the functional level of benches and educational representations. And for those children who might take flight, a safety feature to reassure even the most anxious parent. Every person in the park is given a wrist identifier with a gps locator. Throughout the park are 'locator stations' where with the swipe of one's wrist band, everyone in the group with that person is shown on a park map.
The park also has an outdoor entertainment arena, an indoor event center/gym and a long walk/roll path with rest stations. Everything you need to know is on
the park website
.
This Month's Featured Author:
Barbara Boucher, PT, PhD, OT
We thank Dr. Boucher for providing us with this article
Barbara H. Boucher, PT, PhD, OT has devoted her career to the health and well-being of children. She is an expert on the treatment of movement disorders and developmental problems.
Her credentials include a baccalaureate degree in and license to practice Occupational Therapy, a master's degree in and license to practice Physical Therapy, and a doctor of philosophy in Human Development and Family Sciences.
She has clinical experience in rehabilitation hospitals, neonatal intensive care units, private homes, and public schools. Additionally, she was a university faculty member and taught graduate students in Physical Therapy for 6 years.
Dr. Boucher is an independent contractor for her services under the business name
TherExtras.
She is available to provide therapy services to improve the quality of life for persons with disabilities and their families, all ages, all diagnoses, all disabilities. Dr. Boucher is also available to organizations for grant-writing, second-opinion evaluations, architectural modifications and expert witness testimony. She will consider contracts for consultation on child development, child ergonomics, special education, child health and fitness, and exercise prescription for health.
Tags: Article PT OT Newsletter 25 June 2010