Review of Home-Grown Baby, by Barbara Sher - featured September 24, 2010
< Back to Previous Page
Review of Home-Grown Baby by Barbara Sher
By:
Barbara Boucher, PT, PhD, OT
Review of
Home-Grown Baby
for PediaStaff by Barbara H. Boucher, OT, PhD, PT,TheraExtras.
Illustrations provided by and reprinted with the express permission of the author.
Concise Accurate Easy-to-Read
The author had me at the first page:
understanding baby
. In one page she accurately provides essential facts to guide a new parent. On the subsequent pages headed with
eye control and vision, hearing, touch and smell
are easy-to-implement suggestions to encourage development of baby's senses.
The next three pages:
early communication, general exercises and balance
continue the theme of practical and simple parent-baby interaction. As much as I like scooterboards I think inclusion in this book was questionable for nothing more than few homes have one.
From head to toe – four pages that nicely describe the development of descending motor control. Motor progression is further described from
sitting balance
to
beginning walking
. The recommendations under
self-feeding
and
self-dressing
reminded me of when our children were small. *reminiscing* Several pages include suggestions to prompt cognitive, social, language and visual perceptual development.
The booklet ends with four pages of developmental skills associated with approximate age of acquisition.
Home-Grown Baby
is well done. However, offering this booklet to parents of children who are diagnosed or already identified as developmentally delayed would be a misuse in my opinion. The recommendations are safest for infants and young children who have the potential to develop typically.
The first sentence on the back cover shows the author's agreement with me on the use of this book.
"A book for parents of newborns, grandparents aunties, babysitters, professionals, working with children-at-risk, caregivers and students of child development."
The best use of this booklet would be with early childhood educators and parents who are in need of that education. I was reminded of when I gave child development classes in a homeless shelter for pregnant women. Women from disadvantaged homes are often uninformed about babies and how best to promote their development. I specifically contrast children-with-diagnoses from 'children-at-risk' due to a poor home environment. Lovely and easy to read though it is, Home-Grown Baby is not the best supplement for therapy when a child has a development-altering diagnosis.
The artwork is good enough but the persons depicted as 'parent' look more like older children – giving misrepresentation, I think. I would not, for instance, allow another child to manage a baby sitting on a ball (p. 19).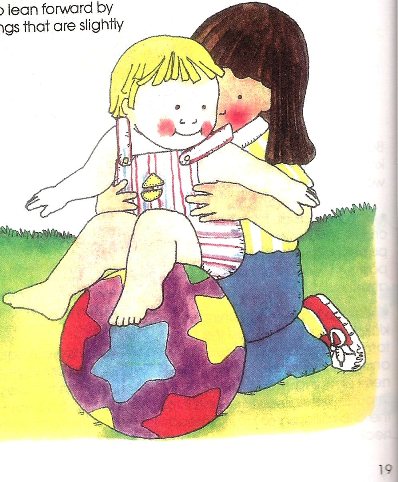 The suggestion to place magazine photos inside the head the crib for visual interest is questionable in my opinion (p. 14). I have met loving parents who might not realize when it is time to stop taping paper inside the crib when the baby can grab the paper and put it in her mouth (providing a choke hazard).
If you are in a position to influence educators in parenting or lead parent education yourself
Home-Grown Baby
could be a nice supplement. Purchase
Home-Grown Baby
from
Amazon.com
or the author's website:
http://www.gameslady.com
This Month's Featured Author:
Barbara Boucher, PT, PhD, OT
We thank Dr. Boucher for writing this book review.
Barbara H. Boucher, PT, PhD, OT has devoted her career to the health and well-being of children. She is an expert on the treatment of movement disorders and developmental problems.
Her credentials include a baccalaureate degree in and license to practice Occupational Therapy, a master's degree in and license to practice Physical Therapy, and a doctor of philosophy in Human Development and Family Sciences.
She has clinical experience in rehabilitation hospitals, neonatal intensive care units, private homes, and public schools. Additionally, she was a university faculty member and taught graduate students in Physical Therapy for 6 years.
Dr. Boucher is an independent contractor for her services under the business name
TherExtras.
She is available to provide therapy services to improve the quality of life for persons with disabilities and their families, all ages, all diagnoses, all disabilities. Dr. Boucher is also available to organizations for grant-writing, second-opinion evaluations, architectural modifications and expert witness testimony. She will consider contracts for consultation on child development, child ergonomics, special education, child health and fitness, and exercise prescription for health.