Rett Syndrome: Implications for Physical Education and Other Movement Settings - featured December 30, 2011
< Back to Previous Page
[Source: Palaestra.com]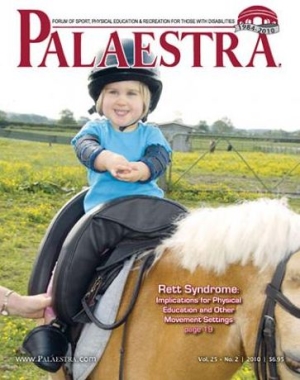 Outwardly, Sarah appears to be like any other smiling, outgoing elementary school student, no different from the other students in her second grade class. On closer observation, a difference is seen in Sarah's hands. Her hands appear to have a mind of their own, constantly moving in a repetitive, wringing, and non-purposeful pattern. If asked, Sarah's second grade or general physical education teacher would say Sara has difficulty engaging in performance activity with her hands, and it appears to take Sarah a great amount of focus and concentration to move her hands out of the wringing pattern. Aside from this initial observation, several other features beyond hand wringing make Sarah's movements different from her peers.
Sarah's movements indicate difficulty with balance and coordination. She is unable to perform locomotor skills such as hopping or jumping as part of the warm-up routine in physical education. Instead, Sarah typically remains standing still while her peers perform these activities. Unless prompted, Sarah prefers watching her peers perform rather than engaging in the activity herself. This is understandable, because even attempting to move from a sitting position on the floor to a standing position takes Sarah a great amount of concentration, work, and balance.
Read the Rest of this Article on Palaestra.com
While you are there, browse around their
website.
All the back issues are online.
Palaestra is is published in cooperation with United States Paralympics (USP), a division of the United States Olympic Committee (USOC).