Q&A: Ask the Expert - Letters from OTs to Susan Orloff about Autism - Featured September 24, 2010
< Back to Previous Page
Q&A: Ask the Expert - Letters from OTs to Susan Orloff about Autism
By:
Susan N. Shriber Orloff, OTR/L
What can I do about……?
I get emails all the time from OT's, Speech Pathologists, parents and sometimes PT's who ask various questions about interactions with parents and schools. I have chosen three to share with you in this column.
The letters are on Autism because so many of our children that we see carry a diagnosis within the spectrum.
An OT working in India asks:
Susan,
I am Shali, an occupational therapist working in a center for autism here in Bangalore, India.
My concern is about a six year old kid who has severe auditory hypersensitivity, and because of that he has lot of behavioral issues like biting, hitting, pinching, scratching.
I need your suggestions for this child.
I also have a, visually impaired-six year old with no speech. Do you have any case histories in the management of visually handicapped?
Thanks,
Shali
Answer from Susan
Dear Shali,
Thank you for writing, all the way from India!!
I want to answer both your questions however they are very different, so I will try to provide the responses separately.
Suggestions for:
6-year old child with severe auditory hypersensitivity that appears to be causing negative behavioral reactions such as biting, hitting, pinching and scratching
Obtain a Sensory History, this can be done through a questionnaire that the mother fills out. Winnie Dunn, OTR/L has an excellent one, as does Rosemary White, OTR/L These can be obtained through the American Occupational Therapy Association Book store.
Make a checklist of the behaviors that you observe and try to correlate them to a function.
Make an observational checklist based on the child's play behaviors: (I have included two here that I have adapted):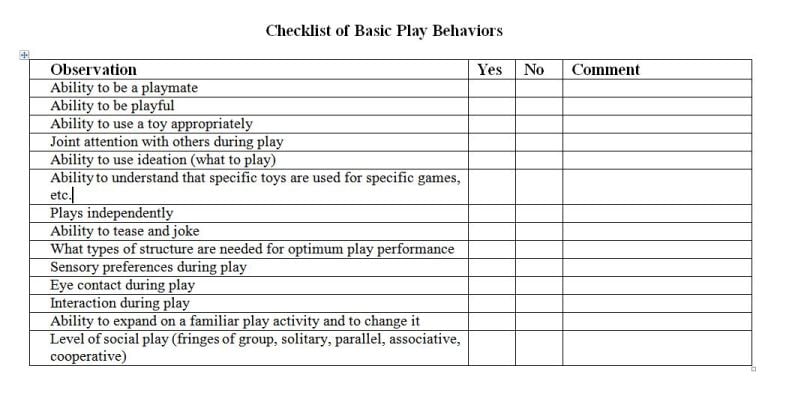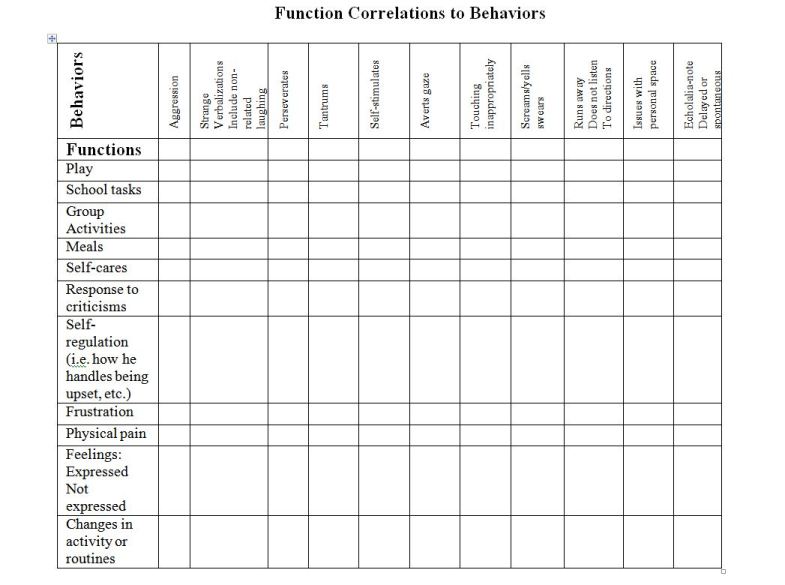 Putting the data from these checklists together should give you a profile of what is acceptable and what is noxious to this little boy. Try to design activity environments that are acceptable and then, initially
tell him
when you are going to add something that is noxious.
For sound accommodations you can do this with headphones so that he can regulate the intensity of the noise. I also recommend the "Listening Program" but you will have to modify it to his level of abilities.
To address the hitting, give him a "hitting time" with a weighted gym ball: he has to "hit it" for ( a specific length of time; I suggest 10-20 seconds) and start/stop when he hears the buzzer.
When he pinches and scratches I assume he is doing this to teachers and other children, or is he doing it to himself?
If he is doing this to others then he needs to be immediately isolated from others particularly if it is the other children.
In any case, I suggest tightly wrapping him in a warm blanket, laying him a well- padded mat, and giving him a "bumpy massage". I have found this to be extremely claming for out-of-control children with sensory irregularities. I have also made mini-piñatas that the children pick apart and have to find the "treasure" inside. This works better than finding things in clay or playdough because they actually have to pick at it and the picking slows them down as they are required to hold it in their non-dominant hand and pick with their dominant one (or they cannot get the toy).
As the behaviors diminish, or he becomes more aware of them, have him do some of these things with a "buddy" and add in social skills as well.
Suggestions for a visually-impaired 6-year old with no speech:
Questions:
Can the child speak
Can the child hear
Does the child make any verbalizations at all
Are they task directed even if it is not "language"
Does the child "see" at all
What is the reaction to touch
Is there a nystagmus response
What is walking balance like
How is the response to movement
Can the child "sort" objects by touch
Are there tactile discriminatory abilities
What is the level of cognition/intelligence
What is required of the child
What are the child's likes and dislikes
Is there a favorite activity, food, sound

Answering these questions will allow you to begin to make an analysis of productive environments for this child and to establish goals that are commensurate with the child's short and long-term needs.
Once the goals are established, then you can grade the activities to increase the functions that are or will be demanded of the child.
Hope this helps, be in touch.
**A note to the readers:
I thought that this was an important letter for both parents and teachers. I hope that these checklists will be helpful in assessing the needs of your children as well. Accept this as permission with acknowledgment of source to copy and use them.
Regards, and
Be Brave!
Susan
A school-based occupational therapist asks about autism
Dear Susan,
I am a school-based therapist. I have a high school aged child diagnosed autistic. He doesn't write, he is independent with self care, and is fairly successful with most fine motor tasks. Lately he has begun to have verbal outbursts during treatment sessions (yelling, and cussing) I have tried "time out," pictures with cues and ignoring him. When I try to get him to do something more physical to switch his mind or change the subject it gets worse. Does anyone have any suggestions? Anything would be greatly appreciated.
Frustrated
Answer from Susan
Dear Frustrated,
You have a tough situation. Your student is obviously hurting in many ways. This lack of impulse control is not only uncomfortable for the people around him, but most probably for him too.
Although it was designed for younger children with Autism, adapting the Floortime Approach might be beneficial. It takes children where they are and helps to move them at their pace to a higher level of abilities and responses.
Skills Streaming is another technique that you may want to look into. Both Floortime and Skills Streaming both are in book form and easily reviewed on the Internet. Arnold Goldstien is the author of
Skills Streaming
and he has a book for both younger and older children.
You may want to look into having the student tell you about his feelings when he is calm. You may want to do this from images from clip art so that it does not look like you are trying to confront him, and makes it more conversational that accusatory.
You may want to help him physically isolate, using a small collapsible tent--Abilitations sells one not too expensive. Ask him what would be good things to put in there when he is feeling like he is going to "feel bad" or use any term other than a negative one like act out, etc.
Self-calming is an OT treatment, and one that will be very valuable for his life.
Also review his chart, histories, etc., and look for ideas from his past. Did he always have outbursts? Were they blown off because he was so little and was going to outgrow them (BIG mistake)?
Also autism comes with other issues. Does he have any co-morbid diagnoses?
Has the idea of adolescent onset on Tourette syndrome been investigated? Although it is necessary to consult a physician to make this determination, awareness of some characteristics may be helpful here.
It is seen with increases in:
ADHD
Impulse control and disinhibition
Various learning disabilities such as dyslexia and dysgraphia
Various sleep disorders (has his sleeping patterns changed and what has been his sleep pattern history)

OCD-Obsessive compulsive disorder is often seen in conjunction with autism because change threatens their success patterns for coping with environmental demands.
There are two books written by Leslie Packer, Ph.D.: "Functional Behavior Assessment: Overview for Parents"-2004 (teachers can use this too ) and "What do you mean by behavior?" this book looks at behavioral modifications, etc.
Rebelliousness in adolescents is normal, however, when an overlay of serious neurobehavioral and psychosocial aspects get involved, it gets very complex. It is not just a case on one size does not fit all, it is one solution for one time may be very wrong the next. The challenge is to have multiple solutions ready to apply.
Hope this helps, be in touch.
And…Be Brave,
Susan
This Month's Featured Author:
Susan Orloff, OTR/L
Special Thanks to Susan Orloff for providing this months Q&A.
Susan N. Schriber Orloff, OTR/L, is the author of the book Learning RE-Enabled, a guide for parents, teachers, and therapists (and a National Education Association featured book), and the Handwriting on the Wall Program. Children's Special Services, LLC is the exclusive provider of P.O.P.tm Personal Options and Preferences, tm social skills programs. She was the 2006 Georgia OT of the Year and the CEO/executive director of Children's Special Services, LLC, which provides occupational therapy services for children with developmental and learning delays in Atlanta.
Please support our contributing authors and visit Your Children's Special Services, LLC on the web at:
http://www.childrens-services.com
.
Tags: Article Q&A OT Autism Newsletter 24 September 2010 Sensory Processing Disorder