Product Review: Thumball - from the OT Point of View - featured February 2, 2011
< Back to Previous Page
Product Review: The Thumball
By:
Susan N. Schriber Orloff, OTR/L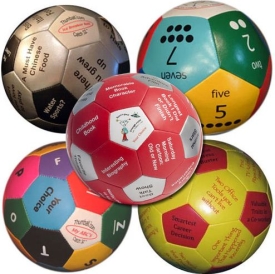 Editor's Note: The following is the first of two product reviews we will feature on the Thumball! When I first saw a Thumball two years ago at ASHA, I thought that it looked like a very versatile tool for pediatric therapists of all types. Basically a smaller version of a soccer ball, each panel features a word or phrase, graphic, or photo. It can be used to stimulate conversation, improve social interactions, develop communication skills and much more.
We would like to thank Mary at
Thumball
for the product samples so we might bring you product reviews from both the Occupational Therapy and Speech-Language Pathology points of view. The following is a review by our friend Susan Orloff, OTR/L.
She chose to write her review as a table - which is sure to please our visual learners!
Overall review: Great toys that can be adapted in many ways.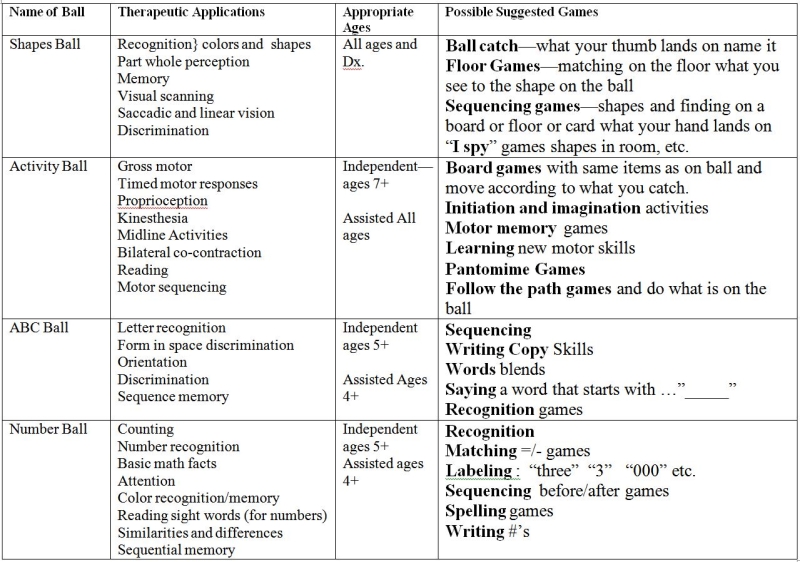 This Month's Featured Contributor:
Children's Special Services, LLC
Special Thanks to Susan Schriber Orloff for providing an article for this issue's Therapy Corner.
Susan N. Schriber Orloff, OTR/L, is the author of Learning Re-enabled, a guide for parents, teachers and therapists. The National Education Association, and the International Learning Disabilities Association endorse the book. She is the Director of the Modified Developmental Preschool in Dunwoody, GA. Susan writes "Ask the Therapist," a column in Exceptional Parent magazine, and is CEO and is the executive director of Children's Special Services, LLC, an occupational therapy service for children with developmental and learning delays in Atlanta, GA.
She can be reached on the Web at
http://www.childrens-services.com
.
Please support our contributing authors and visit Children's Special Services, LLC on the web at:
http://www.childrens-services.com
. She can also be reached by email at:
sorloffotr@aol.com
.
Tags: OT Newsletter 4 February 2011