Pinterest Therapy Resource of the Week - 'Sensory World' Interactive Website - featured September 8, 2011
< Back to Previous Page
I learned about this fantastic (and free) website through
Pinterest
. I must have seen it on five pinboards yesterday as it's making the rounds.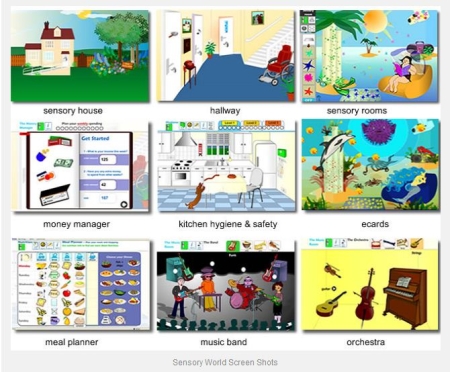 The "Sensory World" includes a house, garden and more. The 'design your own' sensory house aspect is fantastic, but the site is also so much more - especially in the area of activities and skills for daily living! In each room, the user can explore sensory, hygiene and safety topics. They can plan out menus and manage money.
Here is a great description of it that my friend Margaret at
Your Therapy Source
wrote:
Stumbled across this website that is AMAZING! And free of course which makes it more amazing!!! You can design and decorate your own sensory house. There are sensory rooms, lounges, bedroom, kitchen, sensory garden and more. There is visual and auditory feedback so it makes it suitable for different learning abilities. All you have to do is point and click on the mouse which makes it easy to navigate. If you register, you can save your house for the next time you return. I created a fish sensory room for one of my little ones who loves anything related to fish. There is even music playing in the background. The bathroom also has lessons on hygiene. Definitely worth a look for children through adults!
Check it out at SensoryWorld.org
Learn More about FitzRory Support, the Developers of Sensory World.
Tags: Tip or Resources of Week OT SLP Down Syndrome Sensory Processing Disorder Newsletter 9 September 2011