Pinterest Therapy Idea of the Week: Paint Chip Word Family Cards - featured October 28, 2011
< Back to Previous Page
This week's
Pinterest
Therapy Idea of the Week is making the rounds in various incantations - the Paint Chip Word Family Game! 'Paint Chips', you ask? You know, the cards you can find at Home Depot, Sears and Lowe's that help you select the perfect wall color? They are colorful and most importantly, FREE!
Here is a example of how to use these cards to make a Word Family game. Most people are pinning the
original post
the
Pink and Green Mama
post. Pink and Green Mama, credits
The Snails Trail Blog
for the idea!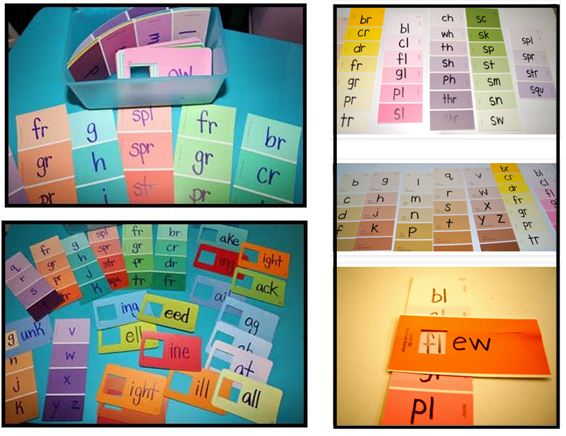 Image Credits:
Pink and Green Mama
and
The Snails Trail
Game Directions and Suggested Blends, Phonemes and Word Familys are on the The Snails Trail BLog
While this is a WONDERFUL idea, let's please only take the number of paint samples you will actually use. And when you buy paint, buy from the store you took the samples from
Check Out this Idea
and hundreds of others on the
PediaStaff Pinterest Page!
You don't need to sign up to see all the great activities we are sharing there.
Tags: Tip or Resource of Week SLP Newsletter 28 October 2011