Pinterest Pin of the Week - Tap Lights for Phoneme Segmentation - featured October 11, 2011
< Back to Previous Page
Now that we've been on Pinterest for a couple of months now we are starting to see some "favorite" pins popping up. This one definitely qualifies for the "Why Didn't I Think of This?" folder.
This idea of using incandescent tap lights for phoneme segmentation is very popular!
Lil Country Kindergarten
blogged about this idea back in February of this year and her photo and description are definitely making the rounds on Pinterest.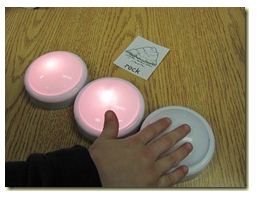 These kinds of lights are available quite inexpensively in discount stores like Wal-Mart and Target as well as Home Depot.
Tags: Tip or Resource of Week SLP Newsletter 14 October 2011