NY Mandates Insurance Coverage for Autism - featured November 1, 2011
< Back to Previous Page
[Source: Albany Times Union]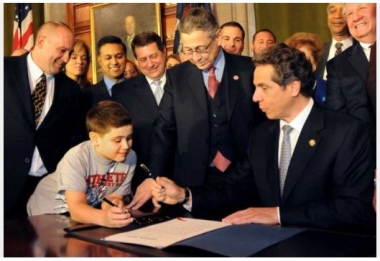 Image Credit: Albany Times Union
ALBANY -- Following years of debate and false starts, Gov. Andrew Cuomo signed a bill Tuesday requiring insurers to cover screening, diagnosis and treatment of autism.
"The children will get the help, the families will get the support," Cuomo said before signing the measure, which was passed by lawmakers last session.
The law could save families with autistic children tens of thousands of dollars, although it will likely contribute to an increase in health insurance premiums in the state. The law takes effect on Nov. 1 of next year.
Some 30,000 state residents under age 19 have been identified with an autism spectrum disorder, the term used for a wide range of autistic behaviors and symptoms.
The law makes New York the 29th state nationally to require that insurers cover autism-related expenses.
Read the Rest of this Article in the Albany Times Union