New Tools to Help Kids with Speech Disorders ('Speech Buddies' in the News) - featured April 14, 2111
< Back to Previous Page
Editor's Note:

The article below mentions a product evaluation of the 'Speech Buddies' tools by SLP clinician David Hammer. PediaStaff was instrumental in the bringing David and the folks at Speech Buddies together to conduct an independent review of the product.

As an FYI, PediaStaff is unaffilated with 'Speech Buddies,' but seeks out interesting products and technologies that have promise for kiddos in the practice of speech and other pediatric therapies. A link to the review by David Hammer, as it originally appeared in the PediaStaff Blog, can be found below.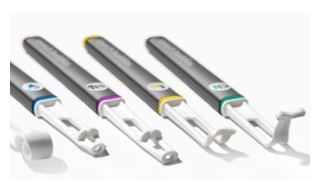 [Source: Chicago Tribune, Baltimore Sun and Others]
by Anne Stein, Special to Tribune Newspapers
It sounds almost adorable when a toddler says "wabbit" instead of rabbit or "thocks" instead of socks, but those mispronunciations — known as articulation disorders — lose their cuteness if they don't go away as a child grows older.
For years, speech therapists have used tongue depressors, popsicle sticks and other objects to place a child's tongue in the proper spot to pronounce those difficult sounds. A speech therapist and a medical device engineer decided they could come up with better tools — and their products may revolutionize the field.
Speech Buddies are five pen-size devices with different rubber tips that act as targets, helping kids (and adults) place their tongue accurately to pronounce five tricky sounds: R, S, L, CH and SH.
Read the Rest of this Story on the Chicago Tribune.com
Read David Hammer's Speech Buddies Product Evaluation on PediaStaff.com
Tags: News of the Week Childhood Apraxia of Speech Articulation Speech Sound Disorders Newsletter 15 April 2011