New Evidence Found for the Genetic Basis of Autism - featured October 3, 2011
< Back to Previous Page
[Source: Science Daily]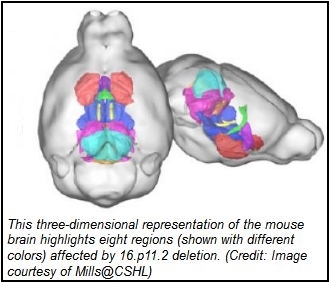 Scientists at Cold Spring Harbor Laboratory (CSHL) have discovered that one of the most common genetic alterations in autism -- deletion of a 27-gene cluster on chromosome 16 -- causes autism-like features. By generating mouse models of autism using a technique known as chromosome engineering, CSHL Professor Alea Mills and colleagues provide the first functional evidence that inheriting fewer copies of these genes leads to features resembling those used to diagnose children with autism.
The study appears in the Proceedings of the National Academy of Sciences in the early online edition during the week of October 3.
"Children normally inherit one copy of a gene from each parent. We had the tools to see whether copy number changes found in kids with autism were causing the syndrome," explains Mills. In 2007, Professor Michael Wigler, also at CSHL, revealed that some children with autism have a small deletion on chromosome 16, affecting 27 genes in a region of our genomes referred to as 16p11.2. The deletion -- which causes children to inherit only a single copy of the 27-gene cluster -- is one of the most common copy number variations (CNVs) associated with autism.
Read the Rest of this Article on Science Daily.com