New Book of 'Lost' Dr. Suess Stories Published - featured October 10, 2011
< Back to Previous Page
[Source: NPR.org]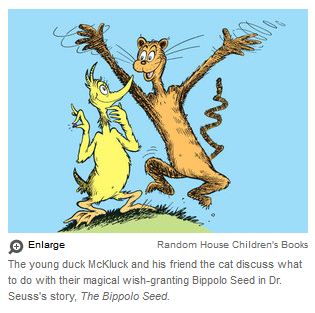 The creative vision of author and illustrator Theodor Geisel, better known as Dr. Seuss, introduced fantastic characters into the imaginations of generations of kids.
Now, two decades after his death, a new book, The Bippolo Seed and Other Lost Stories, is reintroducing a collection of Geisel's more obscure tales, including Gustav the Goldfish and Tadd and Todd.
The stories were rediscovered and the book compiled by Charles Cohen, a dentist who is passionate about all things Dr. Seuss. Cohen has also published a visual biography of the beloved children's author, The Seuss, the Whole Seuss and Nothing But the Seuss. He tells NPR's Neal Conan how he found the forgotten stories, what he learned about Geisel's life and what the author means to children today.
Read the Rest of this Article on NPR.org
Buy the Bippolo See and Other Lost Stories on Amazon.com