Let's Get Physical: Bringing Group Articulation Therapy Into Focus Using Motor Learning Theory - July 2009
< Back to Previous Page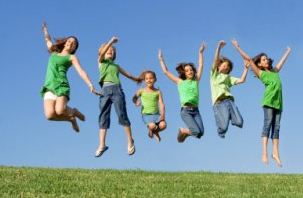 Let's Get Physical: Bringing Group Articulation Therapy Into Focus Using Motor Learning Theory
By:
Katharine F. Bedsole
Imagine this scenario: a group of 3-5 children is seated in a semi-circle at a kidney shaped table. A motivational game is set-up on the table and you have a deck of articulation cards (potentially a different deck for each child) along with a scratch sheet of paper. Thirty minutes fly by before you know it and each child has barely taken more than a few turns working on his sounds. You usher the group out the door, hastily issuing reward stickers and perhaps asking speech related questions as you herd them down the hall back to class. You wonder when you will ever get more time with John or Susan to help them shape their particular sound into a more correct production.
If you do group articulation therapy long enough eventually you begin to think,
surely there is a better way
. Indeed, over the past few years I had heard of a few programs designed to treat mild articulation problems that gave me glimmer of hope. They were initially designed as Response to Intervention (RtI) tools to keep mildly delayed children from going onto an official caseload. This meant I might have help keeping mildly delayed children from coming on my caseload, but what about the mildly delayed/disordered children I desperately needed and wanted to get off my caseload?
A few of the programs (Speedy Speech and 5 Minute Kids) dealt with children one on one for 5-7 minutes 2-4 times per week. These approaches appealed to me because they offered better flexibility with scheduling, greater intensity, and no need for games because of the short duration of each session. The two group programs, Speech Improvement class and the Artic Lab, allowed for larger groups of children and gave results after 20 hours of therapy. All of the programs yielded successful results through intense intervention over a shorter time frame. After considering the options I decided to choose the JoAnn Wiechmann and Deborah Balfanz program (Artic Lab) because it offered structure a large number of kids over the short time frame.
JoAnn Wiechmann and Deborah Balfanz (Artic Lab) piloted their program in the Houston, Texas area and included the Motor Learning Theory (Skelton, 2005) as a significant element of the design. What appealed to me about this program above others was that I could have 5 kids on task the whole 30 minutes with the additional (potential) benefit of graduating children with 1-2 errors after 20 hours of therapy. Their field-tested program focused on giving intense intervention to children with 1-2 mild errors before being referred for testing. I wanted to apply the principles of the program to children already on my caseload with 1-2 errors. I chose 5 students to participate and afterwards all but one was dismissed from therapy. All the students chosen were able to produce their sounds in isolation and at the word level.
Motor Learning Therapy relies on varying levels of targets and activities used to address targets within each session to produce change. There are several other evidence-based approaches that can be used with in the structure of their program including traditional therapy, contrast therapy, sound modification, facilitated contexts, and nonsense syllables. However, I was intrigued by Motor Learning Theory and chose it.
General Structure –
The group size is no more than 5 students but may be smaller depending on attendance that day. There are 7 stations that rotate in and out with 1 station set up for each child participating that day. (5 students = 5 stations or 3 students = 3 stations, etc.) Each of the 7 stations has an activity that the child will do while at the same time practicing their speech words. Each child also had a tally counter which they clicked every time the said a target word (correct or incorrect).
The seven stations –
Gross Motor – students do an exercise (toe touch, knee bends, etc.)
Building Station – building blocks or legos
Listening Station – listening with a tubaloo, whisper phone, webber phone, etc.
Game Station – playing a game (Chipper Chat, Candy Land, etc.)
Writing Station – dry erase board, crayons, markers, etc.
SLP Station – the child says their words for the SLP
Emotion Station – child looks in a mirror and makes their face look sad (or happy, excited, scared, etc.) and their voice sound like a robot (or a baby, monster, etc.)

I had several reservations before I began, especially about the noise level with 5 students saying their speech words all at once for 30 minutes. This proved to be a non-issue.
When I began the program I was very excited and children really seemed to feed off my excitement. They all said they liked the new group setting better than regular therapy. A few things I noticed over time were –
The use of the tally counter seemed to help each child take more responsibility for producing their sound(s) correctly.
Hyper-active children didn't seem hyperactive when group therapy was structured using Motor Learning Theory. I had one child in particular whose classroom teacher was concerned about the possibility of ADD/ADHD. In speech group he was always on task, engaged, and focused on his goals.

Initially the program was structured for children grades first through fifth. My first child to graduate was a Kindergartner. Not all Kindergartners could handle the program but I used pictures for his word lists and he skipped words he couldn't remember. He took very quickly to the structure of the sessions and was eager to please.
This summer I have been able to continue a couple of the children from the spring session (we didn't make it to forty ½ hour sessions before school ended). They will both graduate at the end of their forty sessions. In the groups I have been running the summer I have introduced different kids from the original model. Some of the children were not stimulable for their target sound and I also included children in the moderate to severe range. These children have also been able to successfully participate in the program, which means this structure for group therapy could work for many of the children on a speech therapist's caseload.
References
Skelton, S. & Kerber, J.R. (2005, November). Using concurrent treatment to teach
multiple phonemes to phonologically-disordered children. Poster presented at the
American Speech-Language Hearing Association Convention, San Diego, CA.
Skelton, S. (2004). Motor-skill learning approach to the treatment of speech-sound
disorders.
CSHA Magazine
, Summer, 8-9.
Skelton, S. (2004). Concurrent task sequencing in single-phoneme phonologic
treatment and generalization.
Journal of Communication Disorders
, 37, 131 –
155.
Wiechmann, J. & Balfanz, D. (2007).
Artic Lab: A Bilingual Response to Intervention (RtI) Program for Articulation.
Super Duper Publications. Greenville, SC.
This Month's Featured Author:
Katharine Bedsole, MS, CCC-SLP
Katharine Bedsole, MS, CCC-SLP, graduated from Auburn University in 1997 with her BS and from the University of South Alabama with her MS in 2001. She has worked in a variety of settings including schools, hospitals, homes, and clinics with all ages of adults and children. From 2005-2007 Katharine worked for Super Duper Publications as an SLP Editor. Katharine has given presentations to SLPs and special educators all across the country. She has presented at the Alabama and Georgia speech and hearing conventions. After working at Super Duper Katharine returned to the school setting, working as a full-time SLP in Greenville County, SC. There she continued to hone the skills and knowledge she gained in an effort to better serve her students and fellow SLPs. In 2008 Katharine moved to Bristol, VA and worked for a local school system. She has recently been admitted to East Tennessee State University PhD program in Early Childhood as a doctoral fellow. She may be reached at
katfbedsole@gmail.com