Interview with Maurice Sendak: Children's Books Aren't Wild Enough' - featured September 29, 2011
< Back to Previous Page
[Source: The Guardian]
Author of Where the Wild Things Are says he's observed 'a going back to childhood innocence that I never quite believed in'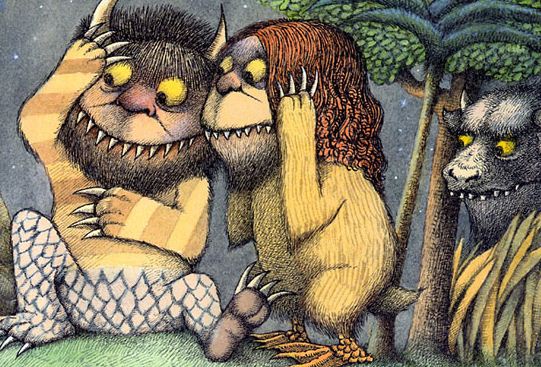 Image: Copyright Maurice Sendak
Children's books today are too safe, according to Maurice Sendak, author of the classic picture book about childhood rebellion, Where the Wild Things Are.
Speaking to the New York Times, Sendak said that modern children's books are not always "truthful or faithful to what's going on with children".
"If there's anything missing that I've observed over the decades it's that that drive has declined," said the 83-year-old author, who admitted that he "hadn't kept abreast" of children's books and didn't see that many. "There's a certain passivity, a going back to childhood innocence that I never quite believed in. We remembered childhood as a very passionate, upsetting, silly, comic business." Max, the wolf-suited star of Where the Wild Things Are, "was a little beast, and we're all little beasts", Sendak said.
Some of Sendak's titles – from his tale of a baby kidnapped by goblins, Outside Over There, to Max's journey to the land of the Wild Things – have provoked controversy. "You mustn't scare parents. And I think with my books, I managed to scare parents," said Sendak. Earlier children's authors "went by the rules that children should be safe and that we adults should be their guardians. I got out of that, and I was considered outlandish. So be it."
The author, who has just published his latest book Bumble-Ardy, the story of a pig who throws his own birthday party which, as ever, "runs against the grain of what's considered a proper childhood", believes there is "no protecting children". After seeing the Holocaust "demolish" his family, he was "very much afraid" when he was a child.
Read the Rest of this Article on the Guardian UK Website
Tags: News of the Week Literacy School Psychology SLP OT Newsletter 30 September 2011