Helping Parents Promote Fine Motor Skills - featured January 27, 2011
< Back to Previous Page
Helping Parents Promote Fine-Motor Skills
By:
Barbara Smith, OTR/L
Copyright 2011, Barbara Smith, OTR/L
As a school-based occupational therapist, I have often wondered whether certain children-the ones who lacked a clear diagnosis and were obviously bright would have had fine-motor delays if they grew up in a sensory- motor rich home environment. I am talking about the students who refuse to paint because they hate getting dirty, know more about controlling a Game Boy than a crayon and have flat hand arches because they never squeezed play dough or ripped paper to make a collage.
Some environmentally at risk children receive occupational therapy services that include parent training as part of an early intervention program. Other children may not have their fine-motor delays identified until entering preschool, Head Start or kindergarten. Many parents don't know the ages children typically develop motor milestones so are not concerned when their toddler cannot use a pincer grasp, a three-year old does not scribble or five- year-old cannot snip with scissors. I wrote my soon to be released book-
From Rattles to Writing: A Parent's Guide to Hand Skills
(Published by Therapro, Inc.) for parents of all children so that they can learn about typical sensory and visual-motor development and the activities that promote them. However, parents of children with disabilities will benefit from the many adaptations I describe that make learning easier.
Visual Stimulation
Parents who understand the power of early sensory stimulation quickly discover that deep pressure and rhythmic movement can calm a fussy baby. However, they may not realize that visual stimulation is also critical in promoting ocular-motor control. During the first six months of life parents should encourage their babies to
Fixate on simple high contrast black and white patterns
Follow a slowly moving object such as a finger puppet
Gaze at a parent's smiling or singing face
Look in a mirror

In addition, parents can be shown how to make (or purchase) mobiles that dangle safely out of the baby's reach. Babies also develop visual tracking skills by watching objects move inside tracking toys such as the home-made tracking tubes shown below. These are made out of a long tube sold in hardware stores to store florescent bulbs. The first tube is filled with beads and toy necklaces.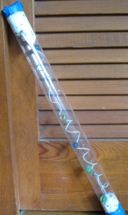 The second tracking tube was made by twisting a hanger into a spiral shape and attaching it to each end of the tube. The marbles spiral up and down when the tube is rotated
Prone Positioning
Many parents have heard of the association between prone positioning and sudden infant death syndrome. Therefore, therapists have an important role in teaching parents about the importance of supervised periods of "tummy time" to provide sensory stimulation and strengthen neck and eye muscles. Some great prone activities include:
Positioning the baby on the parent's chest so that they can look into each other's face
Positioning the baby over the parent's leg in order to bear weight on arms and knees (provide a fun toy to look at).
Providing a rolled up towel under the baby's chest making it easier to reach for toys

Activities for children on the Go
Some active toddlers lose interest in fine-motor activities once they discover the joys of walking or running. However, parents can encourage engagement in hand activities even while on the move. Here are a few examples:
Toddlers can gather toys or push a ball while crawling through commercial play tunnels or home- made obstacle courses made with cardboard boxes and cushions.
Filling/ dumping food containers, squirting shampoo bottles while in a tub, pool or at the beach. These activities teach spatial relationships and strengthen hands.
Filling a box with leaves, rocks or snow

Older children develop "pre-writing" concepts as they
"Paint" lines and shapes on sheds or buildings using water.
Draw shapes in sand with a stick
Arrange rocks or sticks to create circles squares or other shapes.

Adapting Early Learning Activities
Young children typically develop eye-hand coordination with popular manipulation activities such as stacking blocks, lacing boards, shape sorters and stringing beads. I have discovered that by making some of these activities myself using readily available cardboard boxes and plastic from detergent bottles, I can adapt them to make learning easier. Leather shears work well to cut these materials, although they will become blunt and no longer cut leather. Here are a few of my favorite creations:
The Velcro Bottle
- Remove the label from a detergent bottle by soaking in hot water and scraping it off with a butter knife. Attach small pieces of Hook Velcro to the bottle. Attach small pieces of Loop Velcro to small toys. The bottle's screw cap makes for nice storage. The child must stabilize the bottle while removing the toys to insert inside.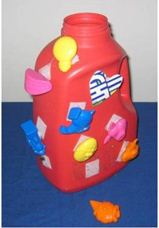 Shape Sorters
can be made out of detergent bottles or boxes. Cut a slit for flat shapes, circular holes for balls and square opening for blocks. Inserting several identical shapes rather than using the traditional shape sorter that has many different shapes-provides needed practice in orienting and matching basic shapes before working with more complex shapes.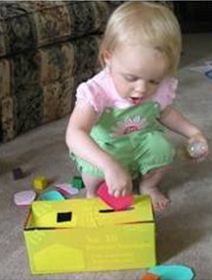 Lacing boards
with larger and fewer holes are easier to use than those sold commercially.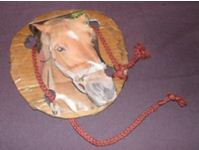 Using large donut shaped objects and cord instead of flimsy string makes learning how to
string
easier. Shapes can be cut out of cardboard or bottles.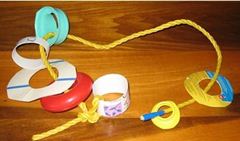 Occupational therapists can play an important role in teaching parents about the early sensory and visual-motor skills that prepare Kindergarteners to read and write. As you can see- providing visual stimulation, prone positioning and eye-hand coordination activities can be inexpensive. Fortunately, simple modifications that promote success may motivate even the most active children to engage in fine-motor activities.
Featured Author:
Barbara Smith, OTR/L
Barbara A. Smith, M.S., OTR/L is an occupational therapist specializing in pediatrics and developmental disabilities. Her book The Recycling Occupational Therapist (Pro-Ed. Inc.) explains how to design and fabricate therapeutic activities for children and adults with developmental disabilities. Barbara currently works in a hippotherapy setting and gives occupational therapy presentations around the country. Her upcoming book-
From Rattles to Writing: A Parent's Guide to Hand Skills
(published by Therapro, Inc.) is scheduled to be released in 2011. Please visit Barbara's web site for information about her books and upcoming presentations at:
www.RecyclingOT.com
Tags: Article OT Fine Motor Skills Parental Involvement Newsletter 28 January 2011