Halloween Activity - Dot, Dot, Paint! - featured February, 2010
< Back to Previous Page
Thanks to our friends at
OTPlan.com
for this week's Therapy Tip of the Week. You can see
this activity
and so many others like it on their website at
www.OTPlan.com
Purpose
: Develop your child's fine motor skills and strengthen grasp and manual control.
Materials
: Construction Paper, Q-Tips, Tempera Paint
Skills
: Fine Motor Control, Hand Dexterity, Pincer Grasp
Description and Instructions
:
Draw a picture on the construction paper. The picture could by anything that the child likes.
Provide the child with different colors of Tempera Paint.
Use the q-tips to paint your picture by dipping the tips into the paint and making little dots on your picture.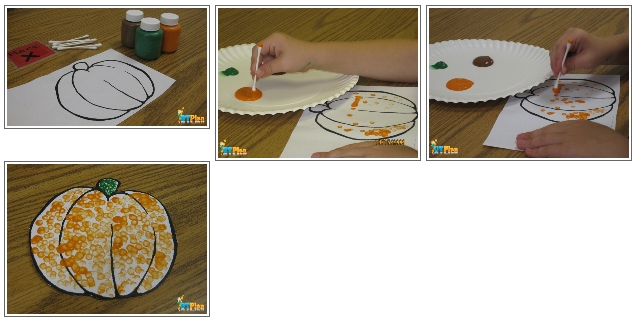 Tags: February 2009 Newsletter OT PT Tip or Resources of Week School Based OT School Based PT Fine Motor Skills