Guest Blog/Activity of the Week: Baked Cotton Balls - featured June 3, 2011
< Back to Previous Page
Special Thanks to
Your Therapy Source
for directing us to this super creative activity and a new guest blogger for us.
Jessie Koller is a wonderfully crafty mom who has frequent posts to her blog
Play Create Explore
that are perfect activities to promote motor skills, and I dare say, language skills as well!
Welcome Jessie! We look forward to featuring your posts in our guest blog and therapy activities sections of our newsletter and blog!
[Source: Play Create Explore]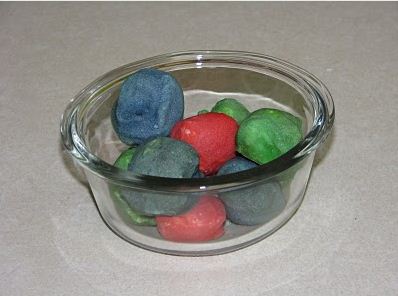 Yes, those are cotton balls!
Another idea from
MaryAnn Kohl's book "Art with Anything".
I thought this was just such a cool idea and so easy to whip up in a few minutes. These are cotton balls covered with a flour/water mixture and baked in the oven! They come out looking like rocks but are in fact "light as a cotton ball!"
My mom said they look like "dinosaur poop" so thats what I call them.
What You Need
1 cup flour
1 cup water
cotton balls
food coloring (optional)

What You Do
Combine and mix the flour and water - I added a little extra water because it was pretty thick

Pour mixture into separate bowls (if you're going to make different colors)
Add food coloring OR use as is. (you can paint them after they are baked)



Dip your cotton balls into the mixture. Fully coat them and then place on a greased cookie sheet.



Bake for 45 minutes-an hour at 300 degrees



You can also make them touch on the cookie sheet and they'll
bake together to form whatever shape you arranged them in!
I experimented with this myself.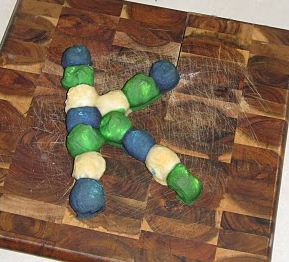 Its also lots of fun to break them open after they are baked because they have that hard shell so they CRUNCH but they are still all cottony soft inside!
You don't actually NEED a hammer to break them. You can step on them and break them. But since we have a soft head hammer I thought he'd have fun doing it this way.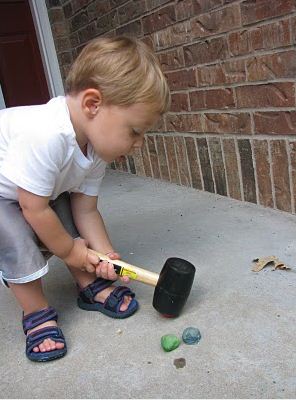 Oooo whats in there?

Featured Guest Blogger:
Jessie Koller of Play Create Explore
(From the Author's Blog)
We are a southern family living in the beautiful Ozark mountains. My life and parenting style are constantly inspired by Art, Nature, Wonder, and Imagination. I have a 2 1/2 year old son "L," another little boy on the way (due in August), and a 13 year old stepson, "J". We are a low media household, and so instead of TV we spend most of our time outdoors and doing fun and creative activities. When the day is done and everyone is in bed, you'll find me crafting or cooking to my hearts content! This blog is a place where I preserve the memories of our homemade happiness. I'm not a Facebooker, but if you'd like to contact me, my email is
ibeejc20@yahoo.com
.
Please support our contributors and visit
Play Create Explore
Tags: Tip or Resources of Week Fine Motor Skills Newsletter 3 June 2011