Guest Blog: Virtual Pumpkin Carving Activity - featured October 21, 2010
< Back to Previous Page
Guest Blog: Virtual Pumpin Carving Activity
By:
Sean J. Sweeney
Copyright 2010. Reprinted with the express permission of the author as it appeared on his
weblog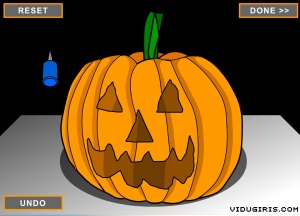 There are dozens of virtual pumpkin carving activities out there, but I have always favored this one at
NCS-Tech
. It is blessedly free of ads, and rather than a drag-drop interface, it allows students to carve a pumpkin freely. It's great for descriptive language, and also serves as a good context for a barrier game. Have students request a face with specific features as another listens/"carves"- I love to do this every year with my pragmatic groups!
Comment below on how YOU might use this site!
Our Featured Guest Blog/Author:
Sean J. Sweeney of SpeechTechie
Thanks to Sean and
SpeechTechie.com
for sharing his blog post with us. Please support our contributors and visit
SpeechTechie.com
About Sean and SpeechTechie.com:
Hi! My name is Sean J. Sweeney and I am a Speech-Language Pathologist (SLP) and Instructional Technology Specialist (ITS). I currently work as an ITS at a middle school in Newton MA and continue my work as an SLP in private practice at The Ely Center, also in Newton. SpeechTechie is an effort to combine my two passions: fostering language development through contextualized intervention, and interactive educational technologies. My goal is to post several resources a week, and present each resource "through the language lens," meaning with an eye toward how the website or program would be helpful in speech and language interventions. I hope that this blog will be helpful not only to SLPs but also to ESL/ELL teachers, language arts teachers, special education teachers, or anyone who loves words! Feel free to comment/leave feedback or questions on any post or to contact me at sean at speechtechie.com
Tags: Newsletter Tip or Resources of Week Fine Motor Skills Language Semantic Pragmatic Language Disorder 22 October 2010