Guest Blog: Starting My Private Practice - featured August 1, 2011
< Back to Previous Page
Starting My Private Practice
By:
Heidi Hanks, MS CCC-SLP for ASHAsphere
Copyright 2011. Reprinted with the express permission of ASHASphere as the article appeared on their blog
ASHAsphere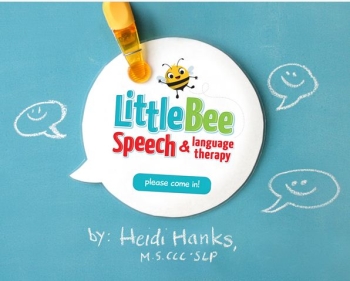 It was 2003, I had a one year old son and I was working part time as a Speech-Language Pathologist in Early Intervention. I was suffering from what I like to refer to as "Mom guilt." I loved my job, I loved my son but I hated dropping him off at daycare. My husband and I decided it was time for a change. We determined private practice was the answer. I could work from home in the evening while my husband watched our son. I put in my notice at work and immediately went about setting up my own private practice. I'm not going to deny that I was a little nervous. How was I going to get clients? How was I going to pay for all the materials I needed to provide adequate services? How would I set up my home environment in a way to allow me to provide therapy for my clients without interrupting my family's life? How would I handle billing? What about liability?
Over the last few years several SLP's interested in setting up their own private practices have asked me similar questions. While I am no expert, I am happy to share what has worked for me. Hopefully, those of you interested in working for yourselves will gain some insight as to how you might make it a reality.
My first concern of course was clients. How would I get them? Having worked in early intervention I was fortunate enough to know some people looking for private therapy now that their children were over the age of three. I started with those clients and went from there. Next I made sure my name was on the ASHA web site as a private SLP in my area. After that I contacted the local hospitals and Universities and got my name on the referral list for private speech therapists. I also contacted other private therapists in the area and let them know that I would appreciate any referrals they might have in the event that their caseloads were full. I have also found it useful to share my business cards with local pediatricians and school teachers. Between my efforts to get my name out there, and word of mouth I have always had all the clients I have time to see.
With a handful of clients interested in beginning therapy my next question was how would I afford the materials I needed to get started. After consulting with my husband we decided we'd make the investment in a few key things, my own personal computer, Boardmaker, a copier and a laminator. With those tools we figured I could make what I needed to get started and continue to acquire what I needed as I went. I was armed and prepared (at least I felt like was making progress). Even still the task of making all the materials I needed was daunting so I just took it a week at a time. I prepared what materials I needed in therapy for the upcoming week. As the weeks went on I appreciated how quickly I was able to acquire the materials I needed. Over time, I have been able to acquire some basic assessments for the school age population I work mainly with, as well as other therapy tools and treatment programs. The trick was to not expect to have everything right away, just start with your clients immediate needs and build from there.
Now that I had clients coming, and the therapy materials I needed, my next question was how would I set up my home environment in a way to allow me to provide therapy for my clients without interrupting my family's life? Well to be honest, when I first started my therapy setup wasn't ideal but we figured a way to make it work. I tell you this because if you are determined you can find a way no matter what your circumstances may be. At the time I started my husband and I lived in a three bedroom, two bathroom condo on the second floor. We decided to turn the first bedroom into my therapy room. The second bedroom remained my son's room and the third bedroom was ours. I organized all my son's toys on shelves in my therapy room. I used the closet for all my therapy materials I didn't want my son to get into during the week and I put a small table with two chairs in the middle of the room. When I opened my closet doors on therapy day my room was immediately transformed from my sons play room to my therapy room. I had easy access to all my therapy materials.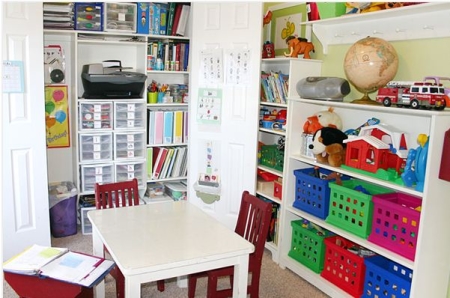 With my therapy room all setup I had to determine where I would have the parents wait while I did therapy with their children. So I put a video camera in my therapy room that would always be on my client and I. Then my husband connected the video camera to the television in my family room so the parents of my clients could wait on the couch in the other room while they watched what we were doing in therapy. It has turned out to be a great system. The parents love that they can see everything that is going on, and I love that having the parents in the other room reduces client distractions.
Another way I have tried to reduce distractions for my clients during therapy is to put a sign on my front door, like the one pictured above, with my clinic name on it that invites clients to just walk in instead of ringing the doorbell. When the next client arrives they simply wait in the family room until the previous session has ended. This makes for a smooth transition between clients.
When my second child was on the way my husband and I looked for a larger home. While we made therapy work in the condo, meaning my husband and son pretty much hibernated in the back bedrooms while I did therapy, we decided it was time to look for a home that would work a little better. Our goal was to find a home that could have a separate entrance for my clients and a space we could divide from the rest of the house that included a therapy room, a family room/waiting room and a bathroom. With a little patience we were able to find what we were looking for within our budget. And the best part is I can do therapy without it affecting the lives of my family quite as much.
With clients coming, materials ready and a place to provide therapy I knew it was time to tackle the uncomfortable subject of billing. To start with I had to determine how much I would charge for my services. I did this by comparing how much other private therapists in the area were charging before I determined my rate. Then I decided that I would offer therapy sessions in 30 minute or 1 hour increments only. From there I was able to prepare my invoices. I was sure to include my clinic logo and information, the client name, the billing month, the dates of service, the hourly rate for service and the total due. I also include at the bottom of every bill an outline of the payment agreement.
The payment agreement states that the client will pay for services one month in advance, if a client is more than two weeks late in paying their bill a late fee of $10 will be applied to their bill. The client is allowed two free cancellations a year and after that they are charged 50% for every additional cancellation. It also states that if a client misses therapy with no notice that they will be charged the full amount for services. In addition if a client check bounces a $25.00 fee will be applied to their bill.
This type of stuff can be difficult to talk to clients about, but it's certainly necessary to let them know up front what your expectations are. I simply put it in the parent contract I have the parents sign at my first parent meeting before I begin therapy, then follow up and ask if they have any questions. I have found that having it all outlined for the parents makes it easier on them and me. It helps them realize that my time is important and they seem to be more committed to therapy as a result.
With committed clients, therapy materials, a place to practice and invoices ready I only had one more concern. What about liability? That can be kind of scary for an independent private therapist. First I made sure I got a business license through the city in which I reside. Then I decided to handle this the same way most health care providers handle it. I have my clients sign a contract before therapy begins that essentially releases me from any liability.
In my contract I state that I am an SLP with my certificate of clinical competence through ASHA. I state that I am licensed through my state as well as have a business license with my city. I state that I will provide services that both parties agree on but that ultimately it is the parents' responsibility for bringing the goals to therapy. It is stated that the parent will not hold me responsible for any claims or damages of any kind, for injury to any person or persons and/or for any damages due to loss of property arising directly or indirectly out of participation in these therapy sessions.
Then I review the payment agreement, which I outlined above. Finally I have the parents sign their name and the date. I'm sure my contract may not be legally air tight, but it gives me a little more peace of mind as I try to do what I love to do. Be a mom and a speech-language pathologist out of my home.
With clients, materials, a place to do therapy, invoices handled and less concern about liability the only thing left to do is just do it! I know that everyone's situation is different and what has worked for me, may not entirely work for you. I hope that sharing this information will at least give you a place to begin when starting your home-based speech therapy business.
Running my own private practice has truly been a joy of mine, and the best part is that I feel like I'm still home with my kiddos. I get to do it all, stay connected to the world of speech-language pathology on my own time and never miss putting my kids down for nap or greeting them when they get off the bus. I love it! I hope you will too.
Our Featured Author:
Heidi Hanks, MS, CCC-SLP
Heidi Hanks, MS, CCC-SLP, lives in Utah with her husband and (soon to be) 4 children. She graduated from Utah State University in 2000 with her Master's degree in Communicative Disorders. She worked in early intervention for 3 years and has been doing private therapy from her home for the last 7 years. She also writes the blog
Mommy Speech Therapy
, which is aimed at helping parents take a more active role in helping their children with speech and communication development. Heidi can also be found on Twitter
@mommy_slp
.
Featured Blog:
ASHASphere
, the official blog of the American Speech-Language Hearing Association
Tags: Article Newsletter 5 August 2011