Guest Blog: No Ordinary 4-Year Old - featured September 9, 2011
< Back to Previous Page
Guest Blog: No Ordinary 4-year-old
By:
Lauren Edwards, PT, DPT
This article is reprinted here with permission of the
Kennedy Krieger Institute
as it appeared on
Inspiring Potential
– a blog by the staff of Kennedy Krieger.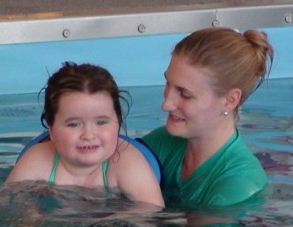 Working on the inpatient unit of the International Center for Spinal Cord Injury at Kennedy Krieger Institute, I've had the opportunity to work with so many incredible patients and families. I am often the first therapist the family has met since their child (or young adult) was first diagnosed with a spinal cord injury. In this role, I get the opportunity to help turn a challenging and traumatic situation into one of hope and recovery. It's a privilege to work with these families during this emotional time of transition.
This past May, I met the Jermano family, to whom I would like to dedicate this blog. Their quest to create a fulfilling life for their daughter Mia, along with their continuous hope for her recovery, is truly an inspiration to my work.
On Oct. 26, 2010, a serious car accident left the Jermano's healthy, active 4-year-old daughter with a cervical-level spinal cord injury, resulting in quadriplegia and forever changing their lives. Since that day, Mia's parents searched tirelessly for ways to help Mia regain the strength and mobility that she lost. In their pursuit for help, they found Kennedy Krieger Institute. In May, Joe and Dory Jermano traveled all the way to Baltimore, Md. from Michigan to receive specialized therapy services for Mia.
First, I must tell you, Mia is no ordinary 4-year- old. This little girl is one of the hardest-working children I have ever been blessed to work with. She's loving, gentle, strong-willed and incredibly determined. Mia participated in therapy sessions with a willpower that doesn't often occur in children her age. She expressed her desire for independence quite clearly during her first sessions by declaring, "Mia do it!" when tackling challenging mobility tasks.
Something else I noticed while treating Mia was the loving presence and dedication of her parents. They attended nearly every therapy session with one goal: to learn how to reinforce and accelerate their daughter's rehabilitation. They sat back and let me lead, while voraciously absorbing every new piece of information. With a video camera in hand, Mia's father asked how he could work with his daughter to promote recovery in her nervous system once they returned home. Mia's mother has a sensitive nature, which helped her be there for her child during difficult sessions, without intervening or undermining her progress. In one particular session, I was challenging Mia by having her reach for toys while laying on her stomach—a task that takes a lot of core and upper extremity strength. Quickly following my lead, Dory and I began to put on a Barbie play to serve as a distraction. I'll never forget Dory and I laughing to the point of tears, all to keep Mia smiling.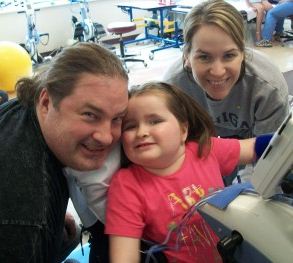 Working with the Jermano family reminded me how powerful the influence of parents is on a child's recovery. This influence is not only physical, but more importantly, psychological. Every day, Mia felt acceptance, love and hope emanating from both of her parents. Their love and enduring strength allowed Mia to put in hours upon hours of therapy during her admission, with little complaint. I have no doubt in my mind that Mia will continue to work hard each day and lead a wonderful, fulfilling life encouraged all the way by her amazing parents.
Featured Author and Organization:
Lauren Edward PT, DPT and the Kennedy Krieger Institute
Many thanks to the Kennedy Krieger Institute allowing us to reprint their blog post.
About Kennedy Krieger Institute:
Internationally recognized for improving the lives of children and adolescents with disorders and injuries of the brain and spinal cord, the Kennedy Krieger Institute in Baltimore, MD serves more than 16,000 individuals each year through inpatient and outpatient clinics, home and community services and school-based programs. Kennedy Krieger provides a wide range of services for children with developmental concerns mild to severe, and is home to a team of investigators who are contributing to the understanding of how disorders develop while pioneering new interventions and earlier diagnosis. For more information on Kennedy Krieger Institute, visit
www.kennedykrieger.org
About the Author:
Lauren Edwards PT, DPT is a physical therapist in the inpatient department of the International Center for Spinal Cord Injury at Kennedy Krieger Institute.
Please support our contributing organizations and visit the
Kennedy Krieger Website