Guest Blog: Music Therapy and Speech-Language Pathology - A Collaboration (Parts 1 & 2) - featured August 24, 2011
< Back to Previous Page
Guest Blog: Music Therapy and Speech-Language Pathology - A Collaboration (Parts 1 & 2)
By:
Rachel See Smith, MA, MT-BC, Board Certified Music Therapist
Copyright 2011. Modified specifically for PediaStaff based on a blog series that appeared on the
ExploreMusicTherapy Blog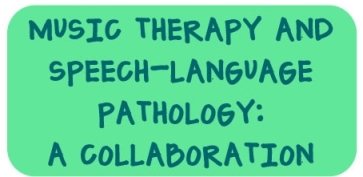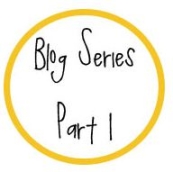 Speech-Language Pathologists collaborate with a variety of people and professionals: the family, educators, doctors, psychologists, therapists, and social workers, to name a few. These team members are involved in the patient's daily life, playing an important part in the client's speech and language-learning success (Rychener Hobson, 2006).
In order to ensure a successful collaboration, everyone involved must be on the same page, supporting the patient's needs with a wide variety of specialties and activities. This collaboration can truly make an impact on the patient's improvement.
Music Therapy is often one of these therapies that collaborate with Speech-Language Pathology. According to Register (2002), of the
695 music therapists questioned, 44.6% said that they collaborate with SLPs
.
Below are the results of a survey by McCarthy and Geist (2007) regarding the frequency of communication goals addressed in music therapy and speech therapy collaboration setting: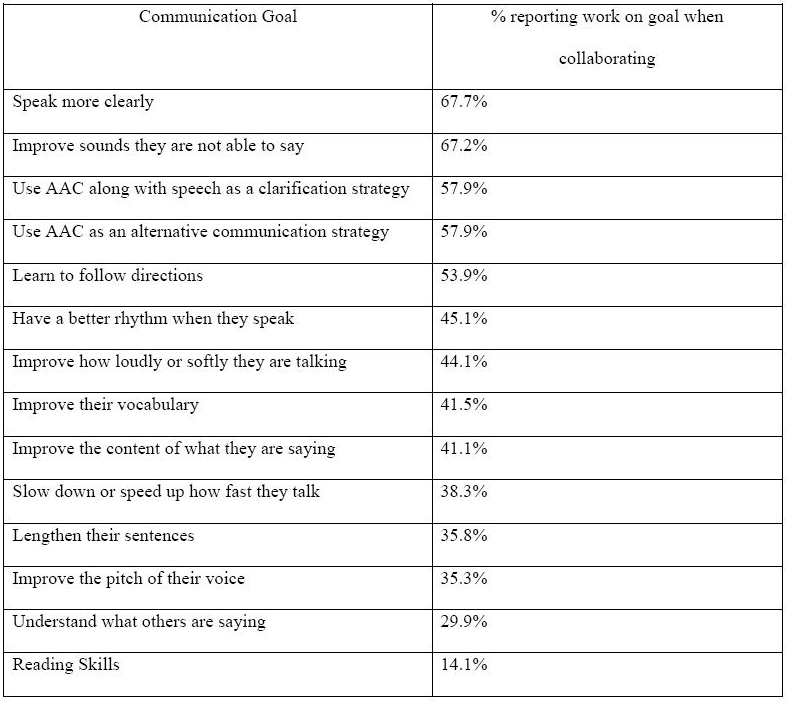 This blog post will further examine this therapeutic relationship and the collaboration basics between these two healthcare professions: Speech-Language Pathology, and Music Therapy.
First, let's examine the basic connection between speech, language, and music
Speech, Language, and Music: How are these forms of communication related?
There are many similarities between speech, language, and music. For example, in both speech and music, frequency, duration, and timbre elements unfold over time to convey a message. Both of these communication tools utilize prosodic information, such as inflection and phrasing, to help portray the meaning of this message (Donnelly, 2001).
The musical aspects of language include melodic contour, timbre variations, motherese or infant-directed speech, rhythm, and nonverbal aspects of language.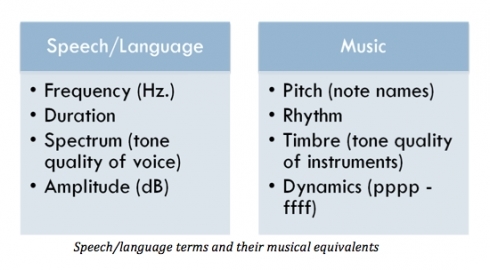 Because these forms are so closely related, it appears that the collaboration of the two therapies — Speech-Language Pathology and Music Therapy — would not only be natural, but it would also be extremely beneficial for the client.
Many SLPs may already be aware of music therapy; however, for those professionals who want to learn more about what music therapy involves, the following information will provide a basic understanding of the field.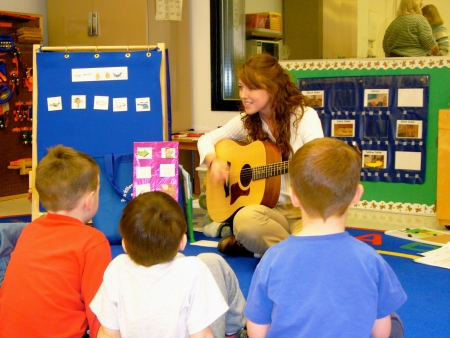 What IS music therapy?
According to the AMTA Website,
: "Music Therapy is the clinical and evidence-based use of music interventions to accomplish individualized goals within a therapeutic relationship by a credentialed professional who has completed an approved music therapy program."
Music is used to address physical, emotional, cognitive, and social needs of individuals.
Music Therapists work with:
Children, adolescents, adults, and the elderly with mental health needs, developmental and learning disabilities, Alzheimer's disease and other aging related conditions, substance abuse problems, brain injuries, physical disabilities, and acute and chronic pain, including mothers in labor.
Where do music therapists work?
Music therapists work in psychiatric hospitals, rehabilitative facilities, medical hospitals, outpatient clinics, day care treatment centers, agencies serving developmentally disabled persons, community mental health centers, drug and alcohol programs, senior centers, nursing homes, hospice programs, correctional facilities, halfway houses, schools, and private practice.
Who is qualified to practice music therapy?
MTs must complete one of the approved college music therapy curricula (including an internship) and pass the national examination offered by the
Certification Board for Music Therapists
in order to hold the music therapist-board certified credential (MT-BC).
So, why would music therapy be beneficial in terms of SLP collaboration?
Knowing that one auditory training task could transfer to and enhance other auditory activities, there are many implications for using music therapy to address language and speech goals.
Music is:
Structured
Predictable
Repetitive

Songs and instrument play can be used to address:
Oral motor skills
Speech articulation
Language Acquisition
Length of Utterance
Social Skills
Language concepts

The majority of music is structured, predictable, and repetitive and can provide rhythmic and melodic cues. Vocal flexibility, vocal imitation, and vocabulary reinforced through song lyrics, are all speech goals that can be addressed with music. These goals can be addressed through rhythm, rhyme, turn-taking (just like in conversation), and repetition.
Relaxation exercises, song articulation experiences, and word/phrase rhythm chanting experiences are all strategies in which music can be used to address speech goals (Zoller, 1991). Music can assist breath and muscle control (Peters, 2000; Cohen, 1994), help the patient practice receptive and expressive language skills (Miller, 1982), and enhance articulation skills (Zoller, 1991). Self-esteem, confidence, attention, and listening skills can all be enhanced through music, as well.
Pairing Augmentative and Alternative Communication (AAC) strategies with musical strategies has also been shown to help with social communication skills (Herman 1985). Signing and manual communication systems can be used to express song lyrics and signs paired with singing can be used together for total communication experiences (Darrow, 1987a). Studies have shown that children with autism learned more signs when they were paired with music and speech than when they were taught with music alone or speech alone (Buday, 1995).
Other methods to incorporate speech and language goals and music may include:
Melodic Intonation Therapy (MIT), Speech Stimulation (STIM), and Therapeutic Singing (TS)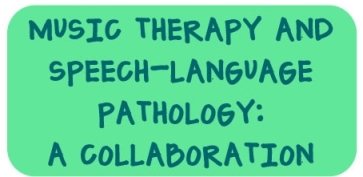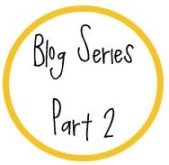 Definition of collaboration:
"The process of working jointly with others in an intellectual endeavor to bring about change, and it implies shared responsibility"
As the number of cases of children being identified with communication disorders increases, so does the need for cost effective treatment. Therefore, many therapists are looking to collaboration and co-treatment as a way to meet this need.
As mentioned in the first blog post of this series, the collaboration efforts between Speech-Language Pathologists and Music Therapists is on the rise. This is evidenced by a recent survey of 695 music therapists, as 44.6% said they collaborate with SLPs (Register, 2002).
Why should SLPs and MTs utilize inter-, trans-, or multi-disciplinary collaboration?
It benefits the client's overall well-being
It is cost effective
Language and music are structurally similar in many ways

5 similarities between music and language:
Music and Language are universal and specific to humans
Both have pitch, timbre, rhythm, and durational features
Spontaneous speech and spontaneous singing typically develop within infants at approximately the same time.
Music and language have auditory, vocal, and visual uses (both use written systems) and are built on structure and rules.
Distinct forms of music and language exist and vary across cultures

When You Collaborate with the Other Therapist:
Do…
…Communicate with one another on how to best address the needs of the client and what music interventions can be used to enhance and support communication areas the SLP is addressing with the client.
…Co-Treat!
…Collaborate on goal development (find a time that will work for both of you – even if it's just for 10-15 minutes a week!). If meeting in person does not seem to work, try other technologies, such as email correspondence, using Skype, Twitter, or an instant messaging program. This may work better for both of your schedules.
…Understand your limits and do not overstep your professional training bounds. The lines between each profession should not become blurry.
…Have a clear understanding of the other profession's scope of practice. SLPs need to be aware of the CBMT scope of practice and MTs should look at the ASHA scope of practice. By doing this, the professionals can avoid conflict, confusion, and misunderstandings.
…Understand each profession's strengths and areas of training
…Educate yourself on the lingo of the other field (healthcare professions LOVE annoying, hard-to-remember acronyms)
…Be flexible!
…Share information with one another: therapy news articles, ideas, pamphlets, research papers, etc.
…Communicate, Communicate, Communicate!

Don't (A.K.A, Possible Barriers to SLP and MT Collaboration)…
…Forget that everyone is busy. Utilize your collaboration time well – be prepared, organized, and make efficient use of the other therapist's rare free moment.
…Get too easily frustrated. You, or the other therapist, may lack knowledge about the other profession. If this is the case, do your homework and read up on the other field!
…Assume that everyone thinks like you. There may be different professional perspectives and perceptions between the SLP and MT that may weaken collaborative efforts
…Be offended if some professionals are uncomfortable with the idea of collaboration.
…Allow yourself to get sucked into professional competition or territorialism!

Why Not?:
Let's make this happen! SLPs and MTs can benefit from shared knowledge, shared responsibilities, and team support (Abramson & Rosenthal, 1995, Andrews, 1990, Register, 2002, Vachon, 1987).
Be proactive – collaboration can improve the quality of life of your patient!
"Successful collaboration is most effective when those involved share a belief system about the overall care and treatment of the patient" (Rychener-Hobson, 2006)

References
Abdi, S., Khalessi, M.H., Khorsandi, M., Gholami, B. (2001). Introducing music as a means of habilitation for children with cochlear implants. International Journal of Pediatric Otorhinolaryngology, 59, 105-113.
Bauman-Waengler, J. (2008). Articulatory and Phonological Impairments: A Clinical Focus. Third Edition. Boston: Pearson.
Bernthal, J. (2009). Articulation and Phonological Disorders: Speech Sound Disorders in Children. Sixth Edition. Boston: Pearson.
Buday, E.M. (1995). The effects of signed and spoken words taught with music on sign and speech imitation by children with autism. Journal of Music Therapy, 32(3), 189-202.
Cohen, N.S. (1994). Speech and Song: Implications for therapy. Music Therapy Perspectives, 12(1), 8-14.
Darrow, A. A. (1987a). Exploring the arts of sign and song. Music Educators Journal, 74(1), 32-35.
Donnelly, P., Limb, C. (2001). Music perception in cochlear implants. In J. Niparko (Ed.), Cochlear Implants: Principles and Practices. Philadelphia: Lippincott Williams and Wilkens.
Gfeller, K. (2000). Musical involvement and enjoyment of children who use cochlear implants. The Volta Review, 100(4), 213-233.
Herman, F. (1985). Music therapy for the young child with cerebral palsy who uses Blis-symbols. Music Therapy, 5(1), 28-36.
Jentschke, S. (2009). Musical training modulates the development of syntax processing in children. NeuroImage, 47.
Marin, M. (2009). Effects of early musical training on musical and linguistic syntactic abilities. The Neurosciences and Music III – Disorders and Plasticity. Ann. N.Y. Acad. Sci., 1169.
McConkey Robbins, A. (2000). Rehabilitation after cochlear implantation. In J. Niparko (Ed.), Cochlear Implants: Principles and Practices. Philadelphia: Lippincott Williams and Wilkens.
Miller, S. (1982). Music therapy for handicapped children: Speech impaired. Project Monograph Series. Washington, DC: National Association for Music Therapy.
Norton, A., Zipse, L., Marchina, S., Schlaug, G. (2009). Melodic Intonation Therapy: Shared insights on how it is done and why it might help. The Neurosciences and Music III: Disorders and Plasticity: Ann. N.Y. Acad. Sci. 1169: 431-436.
Olszewski, C., Gfeller, K., Zhang, X. (2006). The Use of Auditory and Visual Information in Recognition of Familiar Melodies.
Patel, A. (2007). Language, music, and the brain: a resource-sharing framework. Language and Music as Cognitive Systems. Oxford: Oxford University Press.
Paul, R. (2007). Language Disorders from Infancy through Adolescence: Assessment and Intervention. Third Edition. St. Louis: Mosby Elsevier.
Peters, J.S. (2000). Music Therapy: An Introduction. Springfield, Il: Charles C. Thomas.
Register, D. (2002). Collaboration and consultation: A survey of board certified music therapists. Journal of Music Therapy, 39(4), 305-321.
Rychener Hobson, M. (2006). The Collaboration of Music Therapy and Speech- Language Pathology in the Treatment of Neurogenic Communication Disorders: Part II-Collaborative Strategies and Scope of Practice. Music Therapy Perspectives, 24(2).
Saffran, J. (2004). Musical learning and language development. Music Perception, 21(3).
Schlaugh, G., Marchina, S., Norton, A. (2008). From singing to speaking: Why singing may lead to recovery of expressive language function in patients with Broca's aphasia. Music Perception, 25(4), 315-323.
Tallal, P., Gaab, N. (2006). Dynamic auditory processing, musical experience and language development. TRENDS in Neurosciences, 29(7).
Zoller, M. (1991). Use of music activities in speech-language therapy. Language, Speech, and Hearing Services in Schools, 22.
Our Featured Guest Blog/Author:
Rachel See Smith, MA, MT-BC, Board Certified Music Therapist
Rachel See Smith
is a board-certified music therapist (MT-BC) with a Master's in Music Therapy and a B.A. in Communication Disorders. Smith has had extensive experience using music therapy with children with communication disorders, including leading music therapy sessions with children in a speech therapy preschool program
(KidTalk)
, co-leading music therapy sessions for children with hearing aids and cochlear implants at the University of Iowa Speech and Hearing Clinic Listen and Speak Up, and being employed as a research assistant for Dr. Kate Gfeller's
Music Perception Team in the Department of Otolaryngology at the University of Iowa Hospitals and Clinics
, which involved researching music perception abilities of children and adults with cochlear implants. Smith currently lives in Austin, Texas, and works alongside SLPs, OTs, and PTs in pediatric clinics.
Smith also maintains an informational music therapy blog,
ExploreMusicTherapy
and the online paper,
"The Collaborative Therapist"
To read about Rachel's private practice, visit:
http://www.musictherapyservices.net
.
Thanks to Rachel and
ExploreMusicTherapy
for sharing her blog post with us. Please support our contributors and visit
ExploreMusicTherapy