Guest Blog: Marshmallow Painting for Fine Motor Skills - featured February 9, 2011
< Back to Previous Page
Marshmallow Painting for Fine Motor Skills
By:
Tonya Cooley
copyright 2011. Therapy Fun Zone.
This blog post has been reprinted with express permission of the author as it appeared on her on the
Therapy Fun Zone Blog
Painting is often good therapy, but you can kick it up a notch by using marshmallows as the painting tool. You can grade the type of grip used by using the large marshmallows or the mini marshmallows.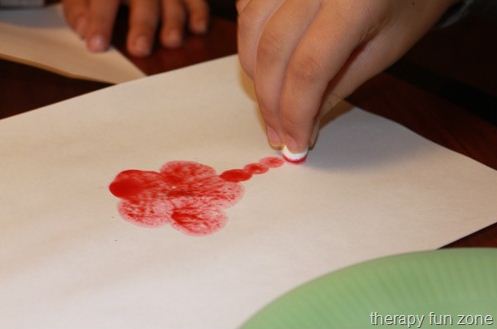 You can use regular paint on paper and just dip the marshmallow in and make designs on the paper.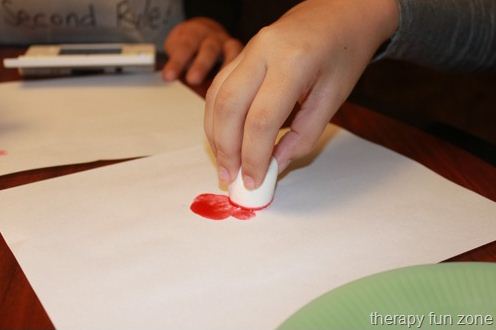 I decided to try a fully edible painting activity since our painting tools were edible. I used powdered Jello with a little water added as the paint. Our "paper" was sugar cookies.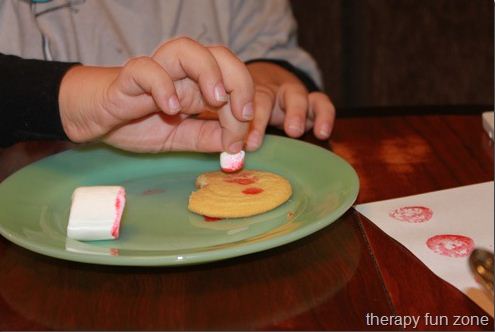 This is a good activity for kids who avoid foods. Playing with food as a toy is a good way to get kids accustomed to being around different foods. Using the tiny marshmallows helps with achieving a tip pinch, and works on developing a tripod grasp for handwriting.
Materials:
Marshmallows (large and mini)
Paint or Jello
Paper or sugar cookies

Skills:
Fine-motor
Handwriting
Sensory

Featured Author:
Tonya Cooley and Therapy Fun Zone
Many thanks to Tonya Cooley for providing us with this activity for our newsletter and website.

About Tonya (from her blog):
I have been an Occupational Therapist since 1991. I started out doing skilled nursing for 6 months, then moved on to pediatrics. In pediatrics I have worked in a clinic setting, inpatient rehab and acute, ICU, early intervention, and school district. I don't have all of the answers, but I hope that I will help stimulate creativity and information sharing. As a therapist, I am always creating new things to use in therapy or adapting things. I love sharing my projects and solutions. I started this site in order to provide a service to people using what I know, and to reach a wider audience than just my current patients and their caregivers. I have a personal blog at
SmartMommySolutions.com
Please support our contributing authors and visit
Therapy Fun Zone
Tags: Tip or Resources of Week Newsletter OT 11 February 2011 Fine Motor Skills