Guest Blog: Holiday Baking for Kids with Special Needs - featured December 14, 2010
< Back to Previous Page
Holiday Baking for Kids with Special Needs
All material Copyright © December 2010
EasyStand
Reprinted with their express permission as originally published on their
Capable Clubhouse Blog
.
By:
Mary Miles, PT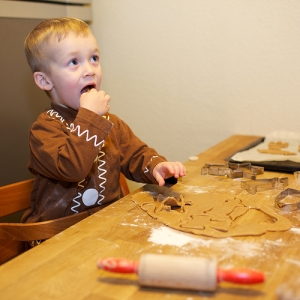 photo:Ernst Vikne
It is the time of the year where many parties and gatherings occur! If you have a tradition of baking at this time of the year, remember to involve the kids in what you make. You might be surprised at how therapeutic baking can be for kids with special needs! At our house we make gingerbread people along with some other holiday cookies. My kids enjoy making the gingerbread people, rolling out their chunk of dough and decorating their own cookies to share.
To help get the kids involved I divide up the dough so each child gets to roll out a few people and decorate as they wish. Giving small portions of dough keeps the project manageable and still FUN! To help little hands become more successful with rolling out the dough, try washing up the play dough roller to have the kids use for their dough. If your child needs help, hand over hand help is still a great experience and fun family activity to do with siblings.
Many wonderful sensory and motor skills are involved in baking, but remember it doesn't need to be perfect. One side special needs bakingwill inevitably be thick while the opposite side is rolled too thin. It's all a great learning experience and the kids will be so proud to share their own creation. Once they have rolled out their dough, talk with the younger kids about body parts; label eyes, nose, mouth, tummy, legs, arms, feet and hands. The older kids will get those decorations in the right area, the younger kids will listen and get one step closer to understanding body parts! If your child uses a stander, consider bringing the stander into the kitchen so they can be up at the counter with their siblings. The tray on the stander makes a great work space for rolling out any cookie dough.
All the kids will enjoy the sensory experience of playing with the dough, smelling the spices in the dough and rolling out the dough. Besides building hand strength while rolling out the dough, cookie decorating allows for fine motor skill practice with picking up small raisins or candy pieces to decorate their gingerbread boy.
Once your cookies are baked, help your child (if able) to get the cookie sheet out of the oven using pot holders. If this isn't an option, let the cookie sheets cool and allow your child to help scoop the cookies off the pan. Yes, this too is therapeutic, a nice 2 handed activity with one hand holding the pan and the second hand scooping! My guess is your child won't be suspicious and think of this as therapy work!
Afterward have your child help with clean up, you will have to take time for a sample! Work on drinking milk from an open cup and eating with good manners, a nice reward after all the work (FUN!) of making cookies together as a family.
Featured Organization:
EasyStand
We thank EasyStand for allowing us to reprint their copyrighted blog post. For more about this organization please visit
EasyStand