Guest Blog: Get a Grip - featured March 7, 2011
< Back to Previous Page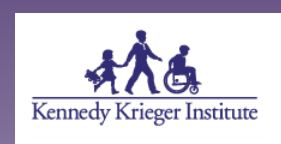 Guest Blog: Get a Grip
By:
Teressa G. Reidy, OTR/L
This article is reprinted here with permission of the
Kennedy Krieger Institute
as it appeared on
Inspiring Potential
– a blog by the staff of Kennedy Krieger.
In occupational therapy, much of our success hinges on our patients' desire to work hard and succeed. After all, we can do everything in our power to help someone live a higher quality life, but at the end of the day, he or she HAS to be willing to do the work. Working with Kennedy Krieger's Constraint-induced and Bimanual Therapy program, every day I watch kids work exhaustively to gain function in a limb that, until that point, they've been unable to use.
It helps when a patient has a goal, something that he's passionate about, something that makes the struggle worthwhile. Well, Taylor Wilkerson has more passion for golf than any kid I've ever met—and probably most adults. But, having been diagnosed with cerebral palsy when he was 6 months old, he also had hemiparesis (muscle weakness on only one side of the body) in his left arm.
From the very beginning, what was so impressive about Taylor was that he was already excelling at the game as part of his school's golf team in North Carolina. By his parents' account, he already had a pretty powerful swing, but, because of his condition, his grip in his left hand was weak. So they brought him here to Kennedy Krieger for constraint-induced therapy.
Whether from an accident or a hemiparesis caused by a condition like cerebral palsy (such as in Taylor's case), many of these kids have spent years adapting and learning to navigate the world around them by using just one hand. In constraint-induced therapy, our goal is simple: Teach these kids the potential that the less functional limb has by shifting their attention away from their dominant, stronger hand.
For patients who've grown used to relying on one arm, the experience can be extremely frustrating at first, especially during the first days of therapy. Not only are they being forced to use an arm they've considered less powerful and effective, but their good arm has been placed in a cast. It can be hard to keep going and tempting to give up.
That's when all that passion I was talking about earlier becomes crucial, and for Taylor, it proved instrumental in his success.
This 13-year-old worked, and he worked hard. Of course there was frustration—he'd been relying on his good arm for even longer than patients who come to us five or six years younger. But he really, really wanted to improve his game. And he did.
Knowing how much he loved golf, we tried to incorporate the game into his therapy as much as possible, such as going outside to put golf tees in the ground and using Nintendo Wii golf and sports games to help him practice his swing. By the time his therapy was over, he was beating me on a regular basis—and doing it with his weaker hand. Better still, we were able to arrange for a local golf pro to visit and help Taylor with his swing.
(Check out video from that fun day here.)
He did amazingly well, and she was more than impressed with his young ability, especially given his disability. She enhanced our therapy by giving us drills to practice with two hands that Taylor could take back home to his teammates.
Kids like Taylor are the reason occupational therapists exist and why I love my job. This young man wanted something that the rest of us often take for granted—the use of both hands. And he worked hard to get it. As he continues his golfing into high school and through life, I have no doubt he will only grow better—and that he'll do it with a good grip and both hands.
Featured Author and Organization:
Teressa G. Reidy, MS, OTR/L and the Kennedy Krieger Institute
Many thanks to the Kennedy Krieger Institute allowing us to reprint their blog post.
About Kennedy Krieger Institute:
Internationally recognized for improving the lives of children and adolescents with disorders and injuries of the brain and spinal cord, the Kennedy Krieger Institute in Baltimore, MD serves more than 16,000 individuals each year through inpatient and outpatient clinics, home and community services and school-based programs. Kennedy Krieger provides a wide range of services for children with developmental concerns mild to severe, and is home to a team of investigators who are contributing to the understanding of how disorders develop while pioneering new interventions and earlier diagnosis. For more information on Kennedy Krieger Institute, visit
www.kennedykrieger.org
About the Author:
Teressa G. Reidy, MS, OTR/L, is an occupational therapist with
Kennedy Krieger's Constraint-induced and Bimanual Therapy Program.
Please support our contributing organizations and visit the
Kennedy Krieger Website
Tags: Article OT Newsletter 11 March 2011 Cerebral Palsy TBI Pediatric Stroke