Guest Blog: Communication and the Therapy Situation - featured February 16, 2011
< Back to Previous Page
Communication and the Therapy Situation
All material Copyright © February 2011
EasyStand
Reprinted with their express permission as originally published on their
website
.
By:
Stephenie Labandz, PT
A group of therapists from one of the Twin Cities' pediatric specialty hospitals with satellite clinics serving the larger metro area recently organized a meet and greet for the school and pediatric clinical therapists in the community. It was nice to see the faces of the caring professionals whose reports I have been reading and who I have exchanged phone calls and emails with. While we talked about a variety of topics, the recurring theme was the essentialness of communication between therapists and the children and families we serve.
School and clinic therapists have different roles and perspectives. Communication is important to ensure a shared overall vision and make sure that all the child's needs are being met. We can never make assumptions about what a therapist in a different setting may or may not be addressing with a child.
One school-based Physical Therapist stated that durable medical equipment for home use should be trialed and justified by a clinic therapist because the school therapist's only obligation is for equipment that is used at school. Open therapist communication in such an instance is essential, because the clinical therapist generally has access to the child for a matter of hours in a very controlled setting. A therapist seeing the child at school or in the home may have a better idea of how variables such as environmental factors, fatigue, or caregiver support will affect equipment needs and utilization. My belief is that the professional with the best access to child and family, equipment, the environment in which the equipment will be used, and outside supports such as social work, is the professional to best help address the need. I would love to hear how others approach this issue.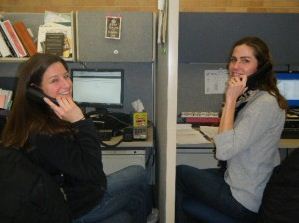 The clinic therapists noted that parents frequently do not remember school therapists' names or professional roles. Some may not understand school therapist involvement or be able to tell a clinic therapist accurately whether or how much a student is receiving service. One great strategy utilized by the clinic is a 3-ring binder with space for reports, home exercise programs and educational materials, and business cards. When the binder travels with the family to outpatient therapies, medical appointments, and school meetings, it helps ensure that the different entities are on the same page and helps the family easily organize information that my otherwise be overwhelming.
School therapists may follow children for years at a time, while clinical therapists see them for episodes of care. The clinic therapist may give the school therapist suggestions for functional activities to weave into the school routine at the conclusion of an episode of care. The school therapist may then alert the clinic therapist of gains made during a therapy break to determine an appropriate time to resume outpatient therapy.
Remember that before child-specific inter-agency communication can begin, a parent must agree to the exchange of health information by signing an information release or HIPAA form as appropriate. It may be easiest to have the form be a standard part of the paperwork associated with a clinic evaluation or a school IEP meeting. If a guardian does not agree to the release of information, he or she may still be willing to provide copies of school assessments and Individualized Education Plans to the clinic and copies of clinic evaluations and progress notes to the school.
It sometimes feels that making contact with another therapist takes time that is already scarce.
In the long run, you will know it is worth it if you can avoid:
Hearing a family tell you they do not use the wheelchair because it is too heavy
Seeing a stander collecting dust
Trying to figure out why a middle schooler does not have desk length armrests
Puzzling over why that joystick does not swing away
Banging your head against a wall, wondering, "What were they thinking?!?"

Reach out and make contact to find out what your colleagues are thinking. Your students and patients are worth it.
Therapists, how do you determine roles between the school and clinic? Parents, how do you help ensure that your child's medical professionals are communicating?
Featured Organization:
EasyStand
We thank EasyStand for allowing us to reprint their copyrighted article. For more information about this organization please visit
EasyStand