Guest Blog: Between the Lion's Phonemic Awareness - featured January 19, 2011
< Back to Previous Page
Between the Lion's Phonemic Awareness
By:
Deb Tomarakos, SLP-CCC
Reprinted with the express permission of the author as it originally appeared on her blog
Speech Gadget
, January 15, 2011
My youngest children have been enjoying playing PBS Kids online games. It is a great way for me to occupy them while I am cleaning up the kitchen after dinner. The boys are usually finishing up homework, and the girls sit at the kitchen island and play a few games. I am typically moving around the kitchen on clean up duty, but I am close enough to offer help and feedback while they are playing on the computer.
The Quiet Machine is one of the reading games that is part of the Read Between the Lions game area.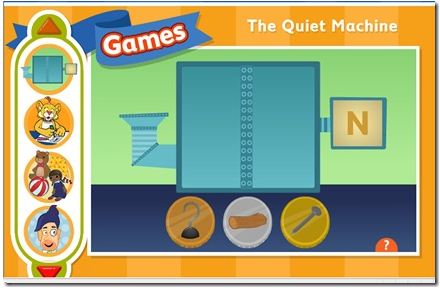 Here's How to Target Speech/Language skills: This game is a nice resource for children who are in preschool or early elementary school and are working on phonemic awareness. The goal of the game is to teach children to identify sounds at the beginning of words. The game "says" a sound and the child chooses from one of three pictured words. It would also be appropriate to use the Quiet Machine as a quick reinforcer at the end of a therapy session or as "speech homework."
That's all from me for today. Until next time,
Featured Guest Blogger:
Deb Tomarakos, SLP-CCC
Deb Tomarakos is an ASHA certified and licensed speech-language pathologist. She has been practicing in the field of pediatrics for over 15 years. Her work experience has included both the public schools and out patient pediatrics. Her strongest areas of interests include Childhood Apraxia of Speech, early reading skills, and using technology to increase children's speech/language skills.
Please support our contributing authors and visit
SpeechGadget.com
Tags: Article SLP Literacy Phonological Disorders Phonemic Awareness 21 January 2011