Guest Blog: Angry Birds Goes Social - featured June 26, 2011
< Back to Previous Page
Guest Blog: Angry Birds Goes Social
By:
Karen Head, MS, CCC-SLP
Reprinted with the express permission of the author as it appeared on the
All for My Child Blog
, July 19, 2011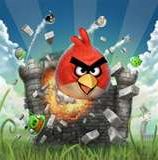 So yesterday, we had one of those social group meetings where one of the new 6-year old boys simply could not be coaxed away from his mom and into the group. Enter…iPad. That brought out a smile, but no movement toward the other kids. When asked what apps he liked to play, he responded, "Angry Birds." Great…I thought…how am I ever going to use Angry Birds to get something social going? Then I had the idea to use the app as reward. I told the boys that they could take a turn with the app after they took a turn with a tried and true "getting to know your friends activity" we like to call If You Like… So I got out a big box of those colored cardboard building blocks, set one on the ground, and started in with "If you like…ice cream" put a block on the tower, and then you can have one turn with Angry Birds. "If you like…dragons" put a block on the tower and take a turn with the app…and so on.
It worked!! Soon everyone was taking turns with blocks while learning about each other, taking a turns with the app, and passing the app along to a friend (a remarkable feat in itself). By the time the tower was built so high it was about to fall down, our brilliant OT, Alicia, noticed that the tower was all red with a green block in the middle, just like the green pig in the app (one of those wonderful accidents). Alicia pointed this out to the kids and said, "let's play real-life angry birds. These blue blocks can be the birds and the green block will be the pig! We can try to get the pig by throwing the blue blocks at the tower" Soon the iPad was forgotten. Building towers with "pigs" inside and throwing blocks to knock them down became the focus. In fact, for the the next several minutes, we all happily played If You Like…, building and throwing and… pointing out how much this group of boys had in common in addition to Angry Birds.
Moral of the story: Don't judge an app by its stated purpose.
Featured Author:
Karen Head, MS, CCC-SLP
Many thanks to
All4MyChild
for providing us with this guest blog for our newsletter and website.
Karen Head, M.S., CCC-SLP is the Coordinator of Group Services for Children's Therapy Associates. She is a founding partner and speech-language pathologist with more than 20 years experience in working with young children with a variety of communication disorders. Before CTA, she worked in several multi-disciplinary clinic settings. She came to CTA with experience in managing a number of satellites which she now applies to business management and program development of CTA. Clinically, Karen has particular interest in children with complex social-communicative profiles. In addition to working with families individually and co-leading social pragmatic groups, Karen is currently enjoying working with families as the intake coordinator of the Social Adventures Group program.
Please support our contributing authors and publications and visit
All4MyChild