Guest Blog: 10 Activities to do on a Scooter Board - featured August 16, 2011
< Back to Previous Page
Guest Blog: 10 Activities To Do on a Scooter Board
By:
Tonya Cooley
copyright 2011. Therapy Fun Zone.
This blog post has been reprinted with express permission of the author as it appeared on her on the
Therapy Fun Zone Blog
Using a scooter board is great for strengthening both the arms and the trunk / core. Sometimes just being on the scooter board is fun all by itself, but other times you need to provide kids with a purpose and motivation to move the scooter board from one place to another.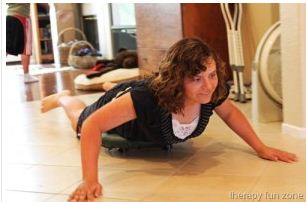 Here is a short list of some fun activities to do while on the scooter board.
Body Bowling. Set up bowling pins at one end of the room, and have the child ride the scooter board down to knock them over.
Fishing. Scatter magnetic fish around the floor and have the child go find them all.
Do a puzzle. Have the puzzle pieces at one end of the room, and the puzzle board at the other end.
Sorting. Have bean bags or other objects at one end of the room that can be sorted into containers at the other end of the room.
Shopping. Place play food around the room, and you tell them what they need to find and get.
Obstacle course of things you need to scoot around.
Place cones around the room, and give the child ping pong balls that they have to place on top of the cones.
Follow a path of tape placed on the floor.

Materials:
Skills:
Upper extremity strengthening
core strengthening
sensory-motor — proprioception and vestibular
motor planning
bimanual
visual perceptual – visual scanning

Featured Author:
Tonya Cooley and Therapy Fun Zone
Many thanks to Tonya Cooley for providing us with this activity for our newsletter and website.

About Tonya (from her blog):
I have been an Occupational Therapist since 1991. I started out doing skilled nursing for 6 months, then moved on to pediatrics. In pediatrics I have worked in a clinic setting, inpatient rehab and acute, ICU, early intervention, and school district. I don't have all of the answers, but I hope that I will help stimulate creativity and information sharing. As a therapist, I am always creating new things to use in therapy or adapting things. I love sharing my projects and solutions. I started this site in order to provide a service to people using what I know, and to reach a wider audience than just my current patients and their caregivers. I have a personal blog at
SmartMommySolutions.com
Please support our contributing authors and visit
Therapy Fun Zone
Tags: Tip or Resources of Week Article PT Gross Motor Skills Newsletter 19 August 2011