'Glee' Star to be the Face of New Nationwide 'Disable Bullying' Campaign - featured February 16, 2011
< Back to Previous Page
[Source: San Mateo Daily Journal]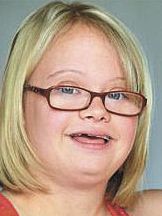 "Glee" star Lauren Potter is the face of a new nationwide "Disable Bullying" campaign with local roots that aims to combat the widespread behavior against people with disabilities.
Potter, 20, plays Becky Jackson on "Glee" and has Down syndrome. She will head the campaign after a report by a local nonprofit agency indicates bullying is widespread against people with disabilities and often unreported.
Children with disabilities suffer a silent epidemic of bullying, according to a first-of-its-kind report released by AbilityPath.org yesterday.
"Bullying is every parent's fear," said Sheryl Young, chief executive officer at San Mateo-based Community Gatepath, which oversees AbilityPath.org. "For parents of children with special needs, that fear is exacerbated."
The "Walk a Mile in Their Shoes" report and guide was compiled by staff at AbilityPath.org., an online hub and special needs community for parents and professionals of children with disabilities established by Community Gatepath, the leading nonprofit provider for people with special needs on the Peninsula.
Potter will represent the campaign as a celebrity spokesperson and be featured in its online public service announcements.
"For kids with special needs I encourage you to speak up and don't be afraid," Potter said from Los Angeles yesterday. "And for everyone else, don't stand around and watch bullying happen, take a stand."
Read the Rest of this Article on the San Mateo Daily Journal
Tags: News of the Week Newsletter 18 February 2011 Bullying Down Syndrome