Feel Good Story of the Week: Teenager Gets Helping Hand With Bionic Arm - featured September 8, 2011
< Back to Previous Page
A British teenager has fulfilled his dream of being the proud owner of his very own Mercedes - in the form of a bionic arm.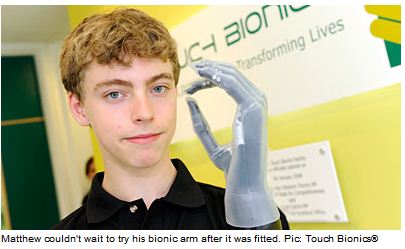 Matthew James, 14, was born missing his left hand and had adjusted to life with a simple open-and-close grip prosthetic limb.
But after learning about the new electronic hand, called the i-LIMB Pulse, the determined student from Wokingham, Berkshire, knew he had to have it.
Knowing he could not afford the £35,000 device, the Formula One fan wrote a letter to the Mercedes GP Petronas racing team for help.
Read the Rest of this Article on SkyNews UK
Tags: News of the Week Adaptive Technology Prosthetics Newsletter 9 September 2011