Children's Book Review Through a Speech - Language Lens: Rosie's Walk - featured August 15, 2011
< Back to Previous Page
Book Review by:

Megan G. Graham, M.S. CCC-SLP.
Reprinted with the Permission of the Author as it appeared on the
All4MyChild Blog/Website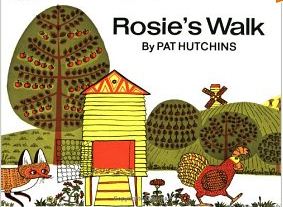 Book:
Rosie's Walk
Author:
Pat Hutchins
Age:
Preschool, Early Elementary
Description:
Rosie the hen goes for a walk around the farm. Little does she know that there is a fox following her.

Goals/Concepts:
Early narrative
Simple sequencing
Farm vocabulary
Basic concepts/prepositions (around, over, under, etc.)
Early perspective taking
Early prediction (Will the fox get Rosie? What do you think will happen?)

Why I like this book:
The story is simple, and kids love it. Great pictures, and simple humorous ending.
Ideas for use:
Great introducing of "setting" (the farm) from the Story Grammar Marker. Discuss other settings, and describe them (what do we see here, hear, feel, etc.)
Use "Braidy" (http://www.mindwingconcepts.com) for a simple sequence story to have kids retell.
Use the pictures in the story, and have kids be "the teacher." Encourage temporal markers: first, next, then, last.
Practice prepositions. Have kids "act" out what Rosie does. Have a toy hen (or have them be Rosie!) and have them walk around, through, under, over. Use props.
Act out the story. Have a dyad…one child is Rosie, and one can be the fox. Help them make a plan and act it out. If 3 children, have one be the "narrator."
Discuss why Rosie doesn't know that the fox is behind her. How do we know? Point out body language, where her eyes are, how the fox is likely moving and sounding, etc. Why doesn't he want her to know…

Tags: Tip or Resource of the Week 19 August 2011 Language Newsletter