Brains of Children with Autism Develop More Slowly Than Healthy Brains, Researchers Say - featured November 17, 2011
< Back to Previous Page
[Source: Science Daily]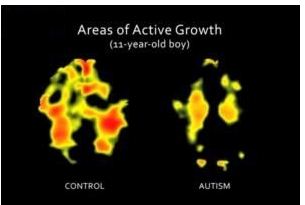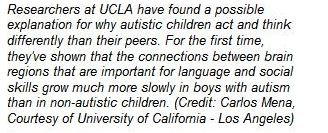 Researchers at UCLA have found a possible explanation for why children with autism act and think differently than their peers. For the first time, they've shown that the connections between brain regions that are important for language and social skills grow much more slowly in boys with autism than in children without autism.
Reporting in the current online edition of the journal Human Brain Mapping, senior author Jennifer G. Levitt, a professor of psychiatry at the Semel Institute for Neuroscience and Human Behavior at UCLA; first author Xua Hua, a UCLA postdoctoral researcher; and colleagues found aberrant growth rates in areas of the brain implicated in the social impairment, communication deficits and repetitive behaviors that characterize autism.
Autism is thought to affect one in 110 children in the U.S., and many experts believe the numbers are growing. Despite its prevalence, little is known about the disorder, and no cure has been discovered.
Read the Rest of this Article on Science Daily.com