Book Review: "The Big Book of Exclamations" - featured January 26, 2011
< Back to Previous Page
Review Written for PediaStaff by Anne Coady M.S. CCC-SLP
Buy this book or read other reviews on
Amazon.com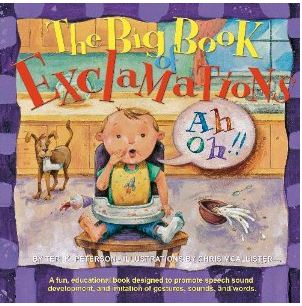 "The Big Book of Exclamations" by Teri K. Peterson and illustrated by Chris McAllister is a wonderful book to help caregivers create interactive reading experiences with young children. Peterson, a speech-language pathologist, specializes in pediatric speech pathology. She has produced a book that promotes speech sound and language development including imitation of gestures, sounds, and words. The combination of prompts and engaging pictures offer parents and teachers an easy way to support speech-language development for infants and toddlers.
The point of the book is to interact with scenes rather than to read a story. Peterson explains, "along the bottom of each page you will find prompts, which show you how to act out the illustrations and interact with your child…." The book is comprised of a series of scenes that represent typical day to day activities starting with wake- up time and ending with bedtime. The sequence provides familiarity and routine, and each scene is filled with interesting actions and illustrations that beseech readers to act out and comment. The breakfast scene has a picture of a grandmother blowing on hot coffee, a father dealing with an overflowing sink, a cat drinking spilled milk, and a mother talking to a baby who is gesturing for an apple. Peterson and McAllister do fantastic job of making each scene engaging and inviting for communication.
From a speech-language pathologist perspective, "The Big Book of Exclamations" shines in its ability to teach caregivers how to enhance language rich reading activities for young children. The book begins with tips on how to facilitate speech and language development while using "The Big Book of Exclamations," and provides numerous prompts for each scene to encourage interaction. However, the instruction and prompts can transfer to other books. The beginning tips consist of using facial expressions, making reading time entertaining, and letting your child make up their own story. In the wake up scene, prompts include knocking on the door, greeting characters, and wiping up a mess on the floor. Caregivers can easily use the techniques they learned from "The Big Book of Exclamations" while they are reading other stories to children.
Another notable feature of "The Big Book of Exclamations," is its fun pictures and interactive design that focus on holding busy toddlers' attention. According to Peterson, "parents continue to talk to me about the challenges of keeping their child seated and attentive during story time." "The Big Book of Exclamations" employs movement and interaction to help parents establish reading as an engaging activity. The best language activities are the ones that interest and motivate children, and Peterson helps parents increase attention to reading.
The book is written for parents, but can be utilized by any caregiver and by early education and nursery school teachers. The skills taught will create language rich environments in the home and in school. In addition, speech-language pathologists will appreciate and enjoy the book to use in therapy and to recommend to parents. The book is appropriate for most people interacting with infants and toddlers.
"The Big Book of Exclamations" is a resource that gives caregivers tools to facilitate speech-language development during reading activities. The prompts teach that books, stories, and pictures are enhanced by caregiver-child interaction and verbal and non-verbal communication about the story. Peterson effectively coaches caregivers how to encourage child participation, communication, and attention while sharing books with children.
This Month's Featured Book Reviewer:
Anne Coady M.S. CCC-SLP
We thank Anne Coady for writing this review for PediaStaff.
Anne Coady is the president and founder of Imagine Speech LLC. Anne received her Master's degree in Speech-Language Pathology from Vanderbilt University's School of Medicine and has a Certificate of Clinical Competence from the American Speech-Language-Hearing Association (ASHA). Anne has worked in medical and school settings and treated children with a variety of communication delays and disorders including children with Autism Spectrum Disorders. During her time at Vanderbilt, Anne received a grant to help people who have traumatic brain injuries increase communication skills. She has given lectures on the topics of stuttering and autism to colleagues and parents.
Please support our contributing authors and visit
Imagine Speech