Book Review: The Active Imagination Activity Book - 50 Sensorimotor Activities to Improve Focus, Attention, Strength & Coordination - featured July 7, 2011
< Back to Previous Page
Active Imagination Activity Book
Book By:
Kelly Tilley
Reviewed By:
Barbara Smith, M.S., OTR/L
Published/Produced By:
Sensory World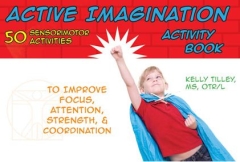 Just when you think you have read about, seen or used every sensorimotor activity on the planet, along comes a gem that fills a niche. Active Imagination Activity book by occupational therapist Kelly Tilley is easy to follow and use, small, light and compact to fit in the therapists travel bag and a helpful tool for home programs. The thin plastic pages and cardboard jacket designed to fold into an easel format make turning pages, reading and viewing pictures convenient.
Parents will find it easy to help their children perform the 50 sensorimotor exercises disguised as games. Tilley does a nice job of explaining the basics of sensory tools without getting technical and children will enjoy the colorful illustrations. However, although the pictures are a definite plus, there are one are two that are confusing. Does the child holding the praying mantis position (page 12) have his knee on or off the ground and the child who is supposed to be lifting a beanbag with both feet (page 45) looks like he is using one foot. Regardless, of these possible minor interpretation glitches, the activity ideas are fantastic.
Tilley categorizes each activity as calming, strengthening, energizing or as fulfilling more than one area. Each page is color coded to indicate the primary purpose of the exercise. For example, the Dolphin Dive on page 4 works on upper-body strengthening (green), core strengthening (orange) and is calming (blue). In addition, the quick reference chart at the back of the book lists the corresponding areas that are addressed in each activity.
Now for the crux of this book- the activities! I love the fact that they require no equipment other than items such as a ball or rope that are typically found around the school or home. The activities are based on play and active imagination (hence the title) so that young children will be easily engaged. I can envision the school occupational therapist teaching a couple of movements each week to the entire class so that the teacher can carry them over into the classroom to benefit both students with or without sensorimotor challenges. This is occupational therapy at its best!
This Month's Featured Book Reviewer:
Barbara Smith, M.S., OTR/L
Special Thanks to Barbara Smith for reviewing this book for PediaStaff.
Barbara A. Smith, M.S., OTR/L is an occupational therapist specializing in pediatrics and developmental disabilities. Her book The Recycling Occupational Therapist (Pro-Ed. Inc.) explains how to design and fabricate therapeutic activities for children and adults with developmental disabilities. Barbara currently works in a hippotherapy setting and gives occupational therapy presentations around the country. Her upcoming book-
From Rattles to Writing: A Parent's Guide to Hand Skills
(published by Therapro, Inc.) is scheduled to be released in 2011. Please visit Barbara's web site for information about her books and upcoming presentations at:
www.RecyclingOT.com
Tags: Book Gross Motor Skills Vestibular Balance & Coordination Sensory Processing Disorder Newsletter 8 July 2011