Book Review: A Best Practice Guide to Assessment and Intervention for Autism and Asperger Syndrome in Schools - featured March 23, 2011
< Back to Previous Page
Review Written by Sarah Prevelige, Ed.D.

Buy this book or read other reviews on
Amazon.com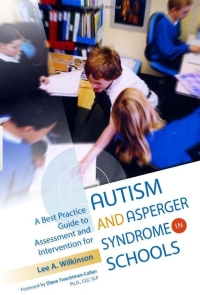 As a private practitioner, it can be difficult to stay on top of current research and literature along with the managerial responsibilities of running a successful business. I spend a lot of time networking with other clinicians and the common theme among them is the lack of time available to read informative publications and clinical studies. Dr. Wilkinson's guide to ASD assessment and intervention is a breath of fresh air for every busy clinician. His book allows for quick information and relevant examples without sacrificing content or language. Dr. Wilkinson does a superb job of utilizing an extensive and impressive list of references which is a great jumping off point to read further in different directions of interest. This book is an easy read that you can put down and pick up over time without losing the flow of the text. The summary of assessment tools is a great reminder to clinicians that don't specialize in this population. Likewise, the example evaluation reports serve as a great teaching tool for the non-diagnostician who needs to understand their way around neuropsychological reports. The appendices and glossary are a great consultation tool that I have already found myself using with both parents and educators. An added bonus is the future directions section of Dr. Wilkinson's book, which invites graduate students and researchers to explore areas that continue to warrant attention.
I enjoyed reading Dr. Wilkinson's book and will happily recommend it to many of my colleagues. I am also happy to announce that I have included this text as required reading in my graduate classes and look forward to the discussions it will generate, along with the future clinicians it will impact.
This Month's Featured Book Reviewer:
Sarah Prevelige, Ed.D.
We thank Sarah Prevelige for writing this review for PediaStaff.
Dr. Sarah Prevelige is an educational psychologist and adjunct faculty member of several local universities in Massachusetts. She is the director and founder of Special Education Consultants of Massachusetts, LLC and conducts neuropsychological evaluations and offers professional development for educators around the New England area.
http://www.spedconsultants.com