Book Review - Sensory Parenting: Newborns to Toddlers
< Back to Previous Page
Book Review: Sensory Parenting from Newborns to Toddlers
By:
Britt Collins MS, OTR/L
and
Jackie Linder Olson
Reviewed By:
Susan N. Schriber Orloff, OTR/L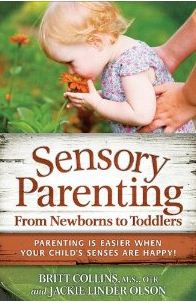 This is an outstanding book for both practitioners and parents. For new parents it covers everything from nursing to nurturing and for the 0-3 OT it gives great ideas for home health visits.
Many new parents do not know what is typical and what is not. This is particularly true for the first time parent.
The narrative is interspersed with checklists that help understand developmental expectations.
Covering motor development, hygiene and more this book helps demystify the growing up process and provides helpful ideas that are easily implemented.
Besides covering the motor developmental concerns, it also addresses the sensory signs that let parents know what is supposed to be happening and when it is more than just the child's "personality".
Knowing what you are seeing, when you should be seeing it and when you should be concerned takes the guesswork and the worry out of early parenting while providing a resource for the OT to share with parents.
This Month's Featured Book Reviewer:
Children's Special Services, LLC
Special Thanks to Susan Schriber Orloff for reviewing this book for PediaStaff.
Susan N. Schriber Orloff, OTR/L, is the author of Learning Re-enabled, a guide for parents, teachers and therapists. The National Education Association, and the International Learning Disabilities Association endorse the book. She is the Director of the Modified Developmental Preschool in Dunwoody, GA. Susan writes "Ask the Therapist," a column in Exceptional Parent magazine, and is CEO and is the executive director of Children's Special Services, LLC, an occupational therapy service for children with developmental and learning delays in Atlanta, GA.
She can be reached on the Web at
http://www.childrens-services.com
.
Please support our contributing authors and visit Children's Special Services, LLC on the web at:
http://www.childrens-services.com
. She can also be reached by email at:
sorloffotr@aol.com
.
Tags: Tip or Resources of Week Autism Sensory Processing Disorder Book Newsletter 6 May 2011