Apraxia? Dyspraxia? Articulation? Phonology? What Does It All Mean? - featured March 10, 2011
< Back to Previous Page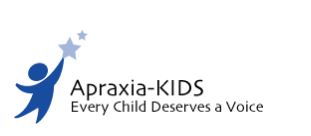 Apraxia? Dyspraxia? Articulation? Phonology? What Does It All Mean?
[Source]
Apraxia-Kids
We thank
Apraxia-Kids
for allowing us to link to their very useful articles.
NB: This article is written for the parents of children who have Speech and related problems. We publish it here because we know that therapists like to give their client's caregivers as much information as possible.
By:
Nancy Lucker-Lazerson, M.A., CCC-SLP
Your two-year-old says no words, makes some sounds, yet he understands everything you say. Your five-year-old speaks in what appear to be sentences, but all you hear are vowel sounds. Your seven-year-old lisps, and says "wabbit" instead of "rabbit". And your three-year-old talks non-stop, but no one can understand a word that he says. So what do you do? If you bring your child to a speech-language pathologist (SLP), the first two children would probably be diagnosed as having oral-motor planning deficits, or Childhood Apraxia of Speech (CAS). The third child has an Articulation disorder, and the fourth child has a Phonology disorder. Now that you know that, what does it all mean?
Read the Full Article HERE
Tags: Newsletter 11 March 2011 Article SLP Childhood Apraxia of Speech Phonological Disorders Articulation Dyspraxia