Adaptive Switches for the Kindle 3 - featured August 9, 2011
< Back to Previous Page
[Source: Blog Kindle.com and Origin Instruments]
Editor's Note:

Normally we wouldn't put a product press release in the news section of this publication, but we were sufficiently excited to want everyone to see this!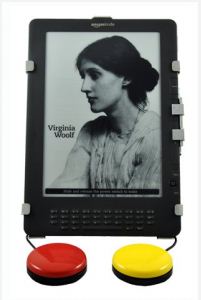 Page Bot, an adaptive technology to operate the Kindle is now available for the Kindle as is the Orsby Switch and the Sip Puff Switch.
Check out all this great product here!
Tags: News of the Week Switches Adaptive Technology Assistive Technology Newsletter 12 August 2011