6 Fun Beach Ball Games for Pre-Schoolers - featured June 15, 2011
< Back to Previous Page
Editor's Note:

Thank you to our friends at Your Therapy Source for the heads up on this great list of beach ball games!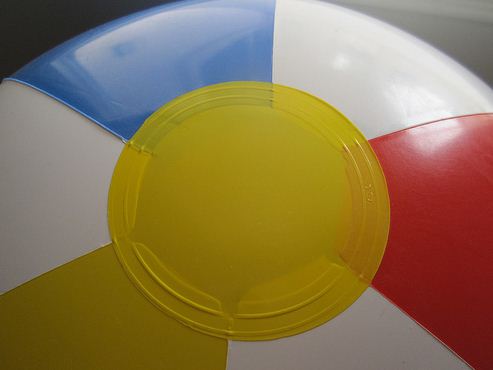 [Source: The BodySmart Blog]
Research shows that adding play props such a balls and hoops is a great way to get kids moving during play. They provide children ample opportunity to practice motor skills and increase moderate to vigorous physical activity (MVPA), while keeping the focus on fun!
Here are six fun ideas that involve a beach ball:
Catch and Do! On each section of a beach ball (traditionally sectioned by color) write an action word such as jump, turn, shake, etc… Children can play catch with a partner or in a group. Roll or throw the ball to each other. When the child catches the ball, they should look to see where their hand is on the ball and do that action. Throw the ball to another child.
Musical Beach Ball: March around as the music plays. When the music stops have children sit on their beach ball. Once the music starts again call out a different locomotor skill such as walk, run, skip, gallop or slide, as children move to the music. Change tempo of music to travel to different speeds. When music stops, sit on top of ball until music starts again.
Traveling Beach Ball: Set up an obstacle course using cones, hula hoops, chairs or other objects to create movement pathways. Children use the beach ball as they go over and around the obstacle course. Create a variety of pathways, straight, curved or zigzag to give children an opportunity to practice moving their bodies in different directions. Carry the ball through the obstacle course. Now try to kick it.

Read the Rest of these Great Beach Ball Ideas on the Body Smart Blog
Tags: Tip or Resources of Week Physical Education Newsletter 17 June 2011